IN THE JOURNAL | GLOBAL PERSPECTIVES
Spying, refugees and executions: Inside the Indonesian and Australian media
January-March 2016
By: Ross Tapsell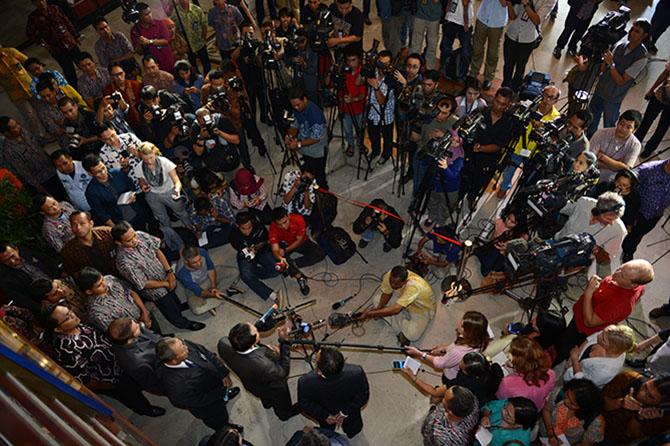 The executions left many Australians disappointed with the Indonesian government and unlikely to actively seek out information about the country's culture and politics. Former President Yudhoyono was right when he told the Australian Parliament in 2010, "There are Australians who still see Indonesia as an authoritarian country or a military dictatorship, or as a hotbed of Islamic extremism, or even as an expansionist power." The disagreement over the death penalty reinforced these stereotypes. Indonesia's military-style transfer of Chan and Sukumaran to Nusakambangan, the prison island in southern Java where they met the firing squad, made a bad situation worse.
When it was revealed that a senior national police official posed for photos with the condemned during their final plane ride from their prison on Bali to Java it didn't take long for racism and bigotry to spread online and via social media in Australia. The stereotypes will persist. In the executions controversy, content sharing through media partnerships had the potential to provide a greater diversity of viewpoints in the Indonesian media. However, the conundrum surrounding the role of the ABC as a Fourth Estate, or soft power source, into Indonesia meant these partnerships were not operating at optimal capacity, right at a time when they were needed most.
Conclusions
It is now clear that when the mainstream media covers the Australia-Indonesia relationship, it will most likely be framed around a flashpoint of contestation between the two countries. This is, of course, what makes "news." As ABC correspondent Peter Lloyd wrote: "To be perfectly frank, journalists despise normality. Good is bad. Quiet is boring. Your up is our down. Generally speaking, the worse it is for you, the better for us. It makes for good copy."
Yet the Australian and Indonesian governments seem reticent to acknowledge that this is, for the most part, how the media works. Rather, the government blames the media for producing negative stories, accusing them of hindering otherwise positive relations. In response, Australian government officials tend to continuously and overeagerly emphasize the "importance of Indonesia" and avoid sensitive issues. Indonesian government officials and pro-government commentators tend to emphasize Indonesia's "sovereignty." Both can be guilty of using these flashpoints to pander to domestic audiences, particularly around election time.