IN THE JOURNAL | GLOBAL PERSPECTIVES
Spying, refugees and executions: Inside the Indonesian and Australian media
January-March 2016
By: Ross Tapsell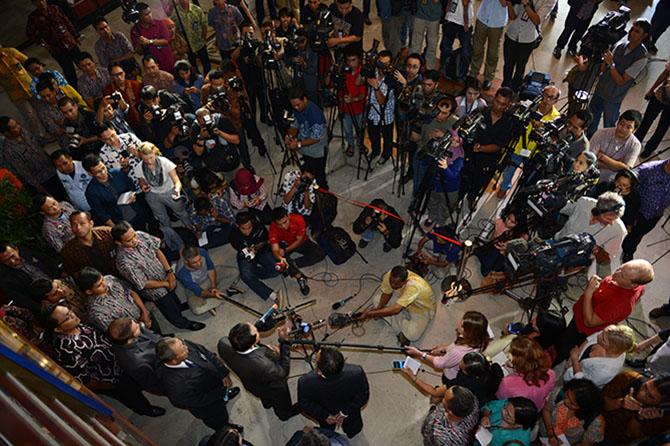 Many Indonesian and Australian scholars and doctoral students write regularly for online platforms such as Inside Indonesia, the Australian National University's New Mandala and East Asia Forum, the Lowy Institute's The Interpreter and more recently, the University of Melbourne's blog site Indonesia at Melbourne, among others. Media companies in both countries would do well to collaborate with these organizations to enable greater expertise on issues. They provide important expertise as well as counterarguments to views pushed in the mainstream media. Content sharing is the future for many news companies, and universities will need to be more active in this outreach space in the near future. The basis of these partnerships should be developing ideas and open and transparent discussion on a range of issues crucial to both countries.
Third, expand the scope of public broadcasting in the digital era. Due to financial reasons, Indonesia does not have a correspondent in Australia. All Australian foreign news bureaus are being reduced in the digital era. The Australian Financial Review no longer has a resident correspondent in Jakarta. The ABC and The Australian now use Jakarta as a "hub" for Southeast Asia coverage. Fairfax, which prints The Sydney Morning Herald and The Age, is under significant financial stress and just how long it can afford to maintain a bureau in Jakarta is unclear.
This should be of considerable concern for those advocating for the Australian and Indonesian media to provide information from each other's countries. It's also crucial that the ABC and Australia Plus expand in the region. The Australian government's decision to abandon the Australia Network's programming comes at a time when other news organizations are expanding their role in Indonesia. CNN formed a partnership with Trans Corp Media in 2014 to create CNN Indonesia, while Bloomberg TV is in partnership with media conglomerate VisiNews Asia. BBC has a team of nine journalists and staff in Jakarta and a Bahasa Indonesia website, while Deutsche Welle also produces content in Indonesian. Other sites, such as The Huffington Post, are looking to open a bureau in Jakarta.
If there was a competition in soft diplomacy among international media companies, Australia would be behind in the race. Indonesia is less likely to expand its media operations to Australia, but partnerships and knowledge-sharing in media, communications infrastructure and other initiatives would be of considerable economic, social and political benefit in this, the digital era.
Ross Tapsell is an Indonesia specialist at the Australian National University in Canberra. He is the author of "By-Lines, Balibo, Bali Bombings: Australian Journalists in Indonesia," which was published in 2014.