IN THE JOURNAL | GLOBAL PERSPECTIVES
Spying, refugees and executions: Inside the Indonesian and Australian media
January-March 2016
By: Ross Tapsell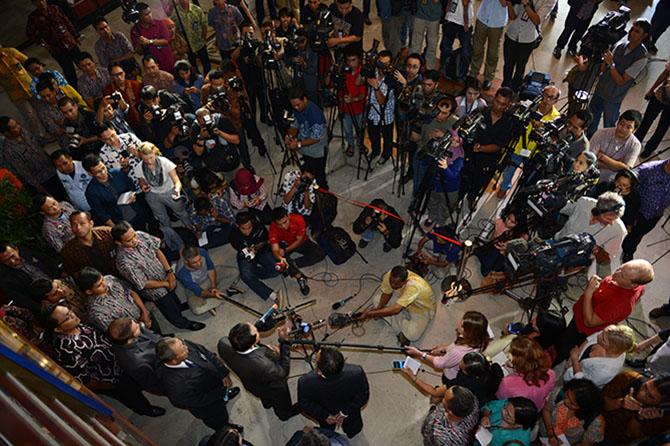 Australia's role in East Timor's independence in 1999, as well as many Australians' support for Free West Papua activists, has led to some suspicion among Indonesian society of Australia's intentions. Educational and family ties are central to "people-to-people links," but for the most part a large proportion of Indonesians regard Australia mostly with apathy. More recently, the constant issues surrounding the Australia-Indonesia "relationship" have become more dominant in Indonesian politics and the media. During the 2014 presidential debate on international relations, a question was raised by candidate Joko Widodo as to the unstable nature of the Australia-Indonesia relationship. His rival, Prabowo Subianto, commented that Australia has a "suspicion or phobia" about Indonesia. Joko responded, "We have to show that we are a country with dignity and not let other countries treat us as weaklings." It was a sign of things to come in Joko's handling of foreign relations in the early months of his presidency.
Thrown into this mix is a discussion about the role of the media to inform and enlarge information about each other in the popular consciousness. Only in bilateral relationships with Indonesia is the Australian media considered a crucial element, and only in relations with Indonesia has the role of the media been such a contentious issue over such a long period. The result is an explosive mix of government officials blaming media organizations for the lack of responsibility in furthering the relationship, and journalists accusing government of hindering their movements and suppressing information. This essay outlines the role of the mainstream media in the bilateral relationship between Australia and Indonesia. It asks to what extent previous government attitudes and responses to the media reporting in Indonesia has been effective, and examines options for both Australia and Indonesia to more effectively harness the media to improve bilateral outcomes. It stems from my research on this topic over 10 years, in particular from my book "By-Lines, Balibo, Bali Bombings: Australian Journalists in Indonesia."
Government and media
The dominant orthodoxy on the role of the media emphasizes troublesome Australian journalists meddling in otherwise positive bilateral relations between Indonesia and Australia. This has been a consistent argument by politicians from both countries for more than 40 years. As is well known, the deaths and subsequent cover-up of the "Balibo Five," the Australian journalists killed in East Timor in 1975, was a key, contested narrative generating distrust and mutual disdain between the media and both governments.
It led many government officials in Australia to argue that the Australian media was actively hindering the Australia-Indonesia relationship. In 2004, a report by the Australian Department of Foreign Affairs and Trade titled "Near Neighbors – Good Neighbors: An Enquiry into Australia's Relationship with Indonesia" concluded: "The committee considers that the medium with the most power to enhance mutual understanding both immediately and in the long term is the broadcasting media." The report added that "much hard work can be undone quickly by careless reporting."