IN THE JOURNAL | COVER STORY
Trade pacts in a 'second best' world
October-December 2013
By: Iwan Azis
In the world of free trade, a multilateral trade agreement (MTA) supported by unilateral liberalization is "first best." But we don't live in a first best world. While recognizing the benefits of trade liberalization, countries usually resist measures that limit sovereignty. This means a middle path prevails: liberalization using bilateral trade agreements (BTAs). There are 189 such agreements in Asia, more than twice the number of multicountry, or plurilateral, trade agreements (PTAs). For East Asia, the comparison is even more striking: 118 BTAs versus 41 PTAs.
Combined, the number of free trade agreements in Asia has more than tripled during the past decade, reaching more than 250. The failure of the World Trade Organization's (WTO) Doha Round has no doubt played a major role. Closer to home, the emergence of plurilateral trade agreements involving the Association of Southeast Asian Nations — the ASEAN+1 FTAs, and the ASEAN-Australia-New Zealand FTA (AANZFTA) — underscores the regional grouping's role as a hub for East Asia's free trade agreements.
But to say East Asia is region-centric is far from the truth. Strong supply chain and production networks born out of the marriage between foreign direct investment and free trade means Asia has to remain open globally. Indeed, the pattern where trade in intermediate goods is largely intra-Asian and final goods are exported mostly to the United States and Europe continues despite the recent fall in demand from these advanced economies.
To read the complete article, please subscribe.
THIS IS A PREMIUM ARTICLE
You must be logged in as a Strategic Review subscriber to continue reading. If you are not yet a subscriber, please subscribe to activate your online account to get full online access.
LOG IN
BUY A PDF
Buy a premium PDF version of this article

SUBSCRIBE
Subscribe and get premium access to Strategic Review's content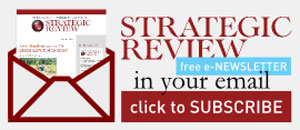 STAY CONNECTED TO SR INDONESIA