IN THE JOURNAL | INDONESIA 360
Realizing Indonesia's 'Impian 2085'
July-September 2016
By: Ian Buchanan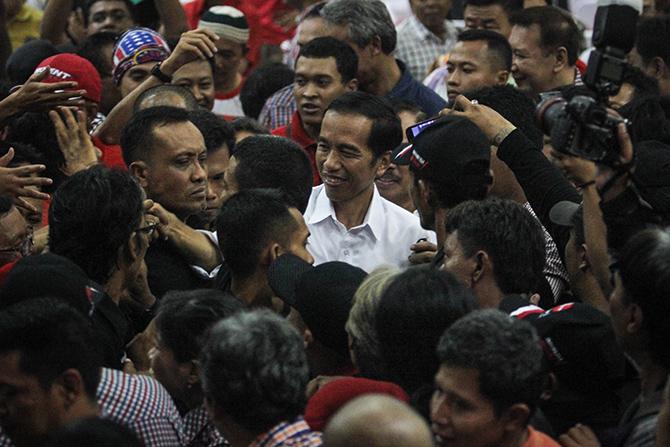 On Oct 20, 2014, in an atmosphere charged with enthusiasm, optimism and hope, Joko Widodo was inaugurated as Indonesia's seventh president. The optimism was most evident among his young, digital-savvy supporters who during a closely fought election used their smartphones to combat fraud by capturing and tallying nationwide voting results.
Joko's own enthusiasm and optimism – he is Indonesia's second-youngest president – combined with a strong track record as mayor of Solo, in Central Java Province, and then as governor of Jakarta, further raised expectations of positive changes during his first 100 days in office. Today, approaching the end of his second year in office, an older and wiser president, facing the realities of Indonesia's complex national and regional politics, weak and bureaucratic institutions, and a deeply rooted political patronage system, is moderating his short-term promises and moving to build alignment around a unifying, long-term vision (or impian) for the nation, out to the year 2085.
The vision includes developing world-class human capital; creating an internationally influential nation that values pluralism; being a global center of education, technology and civilization; zero corruption; building quality infrastructure; and having a globally integrated economy.
The president's detractors will no doubt argue that a vision (or dream) set almost 70 years in the future does nothing for Indonesia's rakyat (people) today. While it may seem counterintuitive, I will draw on lessons from my involvement during the past four decades with a variety of national change programs in the region to argue that a national vision can be the right starting point – but only if it meets two conditions: the vision must be widely shared with and supported by the public; and there must clear, measurable and trusted short-term milestones against which progress toward the vision can be measured.
On the first prerequisite, while President Joko may lack experience, he is a gifted and persuasive orator. It will be essential that he invests the time and effort to build understanding and consensus on his impian. Two young role models whose visions and words created great nations might include Soekarno, who on June 1, 1945, at the age of just 43, forged the foundations for modern Indonesia with his vision of one independent nation built on the five shared principles of a new state philosophy, Pancasila. Joko may also draw lessons from Kemal Ataturk, the father of modern Turkey, who at the age of 46 delivered his famous "Nutuk" speech to Parliament between Oct. 25 and 29, 1927, which offered his far-reaching vision for his war-ravaged nation.