IN THE JOURNAL | GLOBAL PERSPECTIVES
High-performance government: Can emerging economies do it?
August-October 2011
Government entities are critical to growth in Asia, but significant reforms are often overlooked. Most of the Asian economies are enjoying the benefits of a sustained period of political stability and solid focus on macro-economic fundamentals, including healthy economic growth, current account surpluses, stable currencies, and rising foreign direct investment (FDI). However, after a certain stage of development, the adoption of a national comprehensive approach to competitiveness that encompasses both macro- and micro-economic fundamentals will differentiate successful economies from those that fall behind.
Based on our experience working with governments around the world, many leaders tend to focus on the common macroeconomic indicators when measuring success in economic development, as well as on the political reforms and initiatives required to drive development and growth. However, a less discussed though equally important factor is the work of the highperforming, effective government agencies.
In developed economies, the private sector and other organizations lead economic growth and development. However, in emerging economies, government agencies typically occupy the driver's seat. As a result, we found in Asia and other economically emerging regions a significant correlation between the quality of the institutions, especially in government, and the level of national economic development.
To read the complete article, please subscribe.
THIS IS A PREMIUM ARTICLE
You must be logged in as a Strategic Review subscriber to continue reading. If you are not yet a subscriber, please subscribe to activate your online account to get full online access.
LOG IN
BUY A PDF
Buy a premium PDF version of this article

SUBSCRIBE
Subscribe and get premium access to Strategic Review's content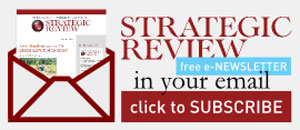 STAY CONNECTED TO SR INDONESIA