IN THE JOURNAL | COVER STORY
Understanding the flaws in Indonesia's electoral democracy
January-March 2014
By: Ramlan Surbakti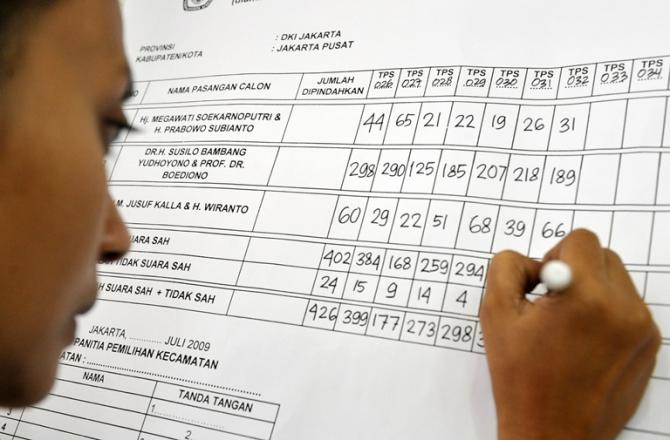 There are two differences between the 2009 election and this time around. First, there was external pressure on political par­ties to consolidate much earlier – in particu­lar the decision by the Constitutional Court requiring all political parties to redo the veri­fication process. Second, the number of par­ties contesting the 2014 election is far lower than in 2009, when 38 were involved. Will this have political implications on the quality of political parties and their opportunities to secure seats?
Indonesia's proportional electoral system contains inconsistencies between candidacy patterns and the determination of candidates. Pursuant to the 1945 Constitution, which designates political parties as the main con­testants at the House of Representatives and provincial, district and municipal level, the election law requires them to submit lists of proposed candidates based on a party list. The list means two things: the political party develops its list of proposed candidates based on set criteria and therefore a small number of people are considered the best candidates; and a candidate's rank determines if they en­ter parliament based on the number of seats won by their party.
Further, the election law mandates that 30 percent of candidates in each district be women. However, although the law obliges political parties to meet the quota for can­didates and women candidates in all con­stituencies, it does not explicitly stipulate sanctions for parties that fail to do so. To ad­dress this gap, the election commission issued regulations stipulating administrative sanc­tions against political parties that fail to meet the quota.
There are at least two aspects in the candidacy pattern and policy on quotas for women that require our attention. First, will the quality of House members improve from 2009 in terms of personal integrity and ca­pacity to carry out legislative duties? Nine political parties will account for around 80 percent of incumbents running for re-election. In 2009, incumbents accounted for only 35 percent. It is interesting that most of the current House members, as well as new candidates for 2014, were not selected through structured recruitment and cadre development. Since most only joined in 2009, and because the majority of candidates this year are incumbents, will their perfor­mance be better than lawmakers who were elected in 2004?
It has been shown that House members elected in 2004 were more productive in developing legislation and had a higher at­tendance rate compared to those elected in 2009. Considering that most members elected in 2009 will likely be re-elected, it is too optimistic to hope for improved per­formance from members elected this year – unless voters choose high-quality candi­dates. Second, will the percentage of women increase compared to 2009? The answer de­pends not on their campaigns, but on voting behavior. Will voters, as occurred in 2009, cast their votes for candidates sitting at the top of the candidacy list?