IN THE JOURNAL | INDONESIA 360
Indonesia and South Korea: Asia's two middle powers
July-September 2015
By: Emirza Adi Syailendra
Indonesia and South Korea have enjoyed official relations since 1973. Both countries have benefited from cooperation in trade, investment, infrastructure development and defense. The year 2013 was named "The Friendship Year" between the countries, and in her annual press statement earlier this year, Indonesian Foreign Minister Retno Marsudi expressed the country's willingness to bolster "middle power" diplomacy, especially in Mikta, a new grouping of states initiated by South Korea: Mexico, Indonesia, Korea, Turkey and Australia. Indonesia has expressed interest in working with the four countries to contribute to development.
The Asia-Pacific region, however, is currently facing substantial interstate challenges. For examples, there is North Korea's nuclear threat on the Korean Peninsula; periodically precarious cross-strait relations between China and Taiwan; disputes in the East China Sea between China and Japan, as well as between South Korea and Japan; maritime disputes in the South China Sea; and China's emergence as a regional military power. These and much more are probable barriers to more effective cooperation
As the Asia Pacific becomes more interdependent, its nations will need to increase multilateral cooperation to foster greater trust and stability. Can two of the region's key middle powers, Indonesia and South Korea, accelerate the pace of regionalism to mitigate existing security dilemmas? How can Indonesia and South Korea's partnership become a counterpoint to the varied divisions and squabbles within the two hemispheres of the region?
To read the complete article, please subscribe.
THIS IS A PREMIUM ARTICLE
You must be logged in as a Strategic Review subscriber to continue reading. If you are not yet a subscriber, please subscribe to activate your online account to get full online access.
LOG IN
BUY A PDF
Buy a premium PDF version of this article

SUBSCRIBE
Subscribe and get premium access to Strategic Review's content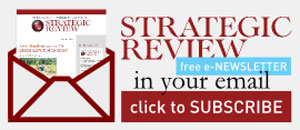 STAY CONNECTED TO SR INDONESIA