WEB EXCLUSIVES | COMMENTARIES
Azerbaijan buys Israel's Iron Dome system
Israel's strategic foothold in Central Asia
18 January 2017
By: Debalina Ghoshal
In December 2016, the Azerbaijan Defense Minister Yaver Jamalov announced that his country had reached an agreement with Israel to buy the Iron Dome anti-missile batteries. Azerbaijan also test-fired the Israeli surface to air Barak missile system in December 2016.
This is a big move, not just for Azerbaijan as its ability to defend itself against short-range missiles and rockets has increased, but also for Israel, which has finally found a market for the Iron Dome. Singapore, South Korea and India had expressed interest in the past, but no further progress has been made.
Central Asia has a history of territorial and ethnic conflict between Azerbaijan and Armenia over the Nagorno-Karabakh territory. Both states were part of the Soviet Union during the Cold War, and the Nagorno-Karabakh Autonomous Oblast (region), which comprised a majority of Armenians, was a part of the Azerbaijan. However, during the later days of the Cold war, Armenians in Nagorno-Karabakh voted to secede from Azerbaijan and join Armenia. Armenia backed these efforts. Post the collapse and disintegration of the Soviet Union in 1991, the conflict intensified until 1994 when a ceasefire was announced. Since then Armenia has occupied the region. In April 2016, heavy fighting took place once more; the worst since 1994, and Azerbaijan accused Armenia of using artillery in the conflict.
Armenian President Serzh Sargsyan recently confirmed that his country had purchased Iskander-M short-range ballistic missiles (SRBM) from Russia with a range of 300 kilometers that can target Azerbaijan's vital oil and gas installations. It also acquired the WM-80 multi launch rocket system (MLRS) with a range of 80 km from China in the 1990s, and the AR-1A MLRS with a range of 130km in 2013. Armenia also possesses Soviet era Scud-B missiles with a range of 300 kms and Tochka-U missiles with a range of 120 kms.
According to various sources, Azerbaijan also received the S-300 air and missile defense system from Russia in 2010.
The Iron Dome is an air defense system made to intercept short-range rockets and artillery rockets fired from a distance of 70 kms. Israel has deployed this system in its own territory since 2011 and it was also used during the Israeli campaign against Hamas in the Gaza Strip in 2014.
Azerbaijan-Israeli defense relations
It is not surprising that Azerbaijan has bought the Israeli anti-missile system as there exists strong defense cooperation between the two countries, and Azerbaijan is Israel's largest oil supplier. Aside from Armenia, Azerbaijian also faces a threat from Iran, which gives it a common enemy with Israel.
Azerbaijan uses Israeli unmanned aerial vehicles (UAV) Orbiter and Hermes-450 to patrol its border, and in 2012 granted Israel access to use its air base near the Iranian border. The same year, the two countries signed an arms deal worth $1.6 billion, whereby Israel committed to sell drones and an anti-missile system. Thus the sale of the Iron Dome to Azerbaijan comes as no surprise.
There has been speculation that Israel could use Azerbaijan as a base for the landing and refueling of its aircraft should it decide to attack Iran. A few years ago, Ilham Aliyev, the then Azerbaijani President, stated: "[T]he Israeli-Azerbaijani bilateral relationship is like an iceberg, nine-tenths of it below the surface."
This not for the first time that Israel has befriended a Muslim country for strategic reasons. In the 1970s it grew closer to Iran and developed military cooperation, including missile development cooperation, to alleviate the common Arab threat. Israel also developed alliances of convenience with Saudi Arabia in the 1960s during the Yemen civil war, when the two organized joint airlifts against Egyptian forces. However, post the 1960s, relations were once again frosty.
Increased cooperation with a Shia dominated country with a secular government like Azerbaijan gives lesser scope for another Shia power in the Middle East, such as Iran, to exert its influence there. Azerbaijan is apprehensive of Iran's attempts to fund various religious groups within its borders, posing a threat to its government. There are also differences between Azerbaijan and Iran over the Caspian Sea.
The other big plus for Israel is finding a market for the Iron Dome after previously struggling, as it opens up the Central Asian market. Kazakhstan, another country with whom Israel has increased its cooperation, including defense, could be interested in buying the Iron Dome in the future.
Azerbaijan could also be interested in buying other anti-missile systems from Israel in the future, such as the David Sling and the Arrow anti-missile system, as Armenia continues to acquire missile systems of increased range.
Debalina Ghoshal is a Research Fellow at the Centre for Human Security Studies, Hyderabad.
11 July 2017
One of the few Gulf states to push back against Saudi Arabia
by Stratfor | 9 February 2012 | Comments (0)
11 July 2017
New battles ahead for President post sanctions and the nuclear deal
by Debalina Ghoshal | 9 February 2012 | Comments (0)
20 June 2017
Despite their close ties, Indonesia prefers to court Saudi Arabia, not Australia
by Duncan Graham | 9 February 2012 | Comments (0)
MORE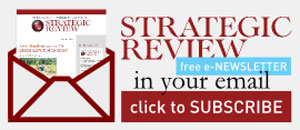 STAY CONNECTED TO SR INDONESIA