IN THE JOURNAL | INDONESIA 360
Where does Taiwan fit within Indonesia's economic agenda?
January-March 2014
By: Budi Akmal Djafar
It is certainly commonplace to read about the "rise of Asia" as a region associated with high economic growth and deepening po­litical unity that is today active, dynamic and eager for new op­portunities. We have also seen a more open Asia that allows for better connectivity among neighbors and the rest of the world. But despite the celebration, tensions and challenges linger. Security issues such as the South China Sea dispute remain, and even less sensitive issues such as economic integration among neighbors are often met with reservations.
So should Indonesia, as one of the largest economies in the re­gion, be constrained by such obstacles? Indonesia, and perhaps other countries in Asia, moves like a child in a playground. She is skilled, agile and responsive. But she can only explore as far as the fences, built by her own set of principles. This is very much the case with how Indonesia is fenced in when dealing with Taiwan.
Indonesia's "One China" policy is the primary stumbling block. This policy stance is a reflection of both pre­vailing reality and our political commitment to respect the internal affairs of other coun­tries, as enshrined in our own national prin­ciples and in the Association of Southeast Asian Nations (ASEAN) charter. Also, China steadfastly considers Taiwan a renegade prov­ince and over the last several decades the island's claim to be the "real" Republic of China has gradually lost most of its diplo­matic support worldwide.
To read the complete article, please subscribe.
THIS IS A PREMIUM ARTICLE
You must be logged in as a Strategic Review subscriber to continue reading. If you are not yet a subscriber, please subscribe to activate your online account to get full online access.
LOG IN
BUY A PDF
Buy a premium PDF version of this article

SUBSCRIBE
Subscribe and get premium access to Strategic Review's content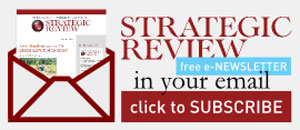 STAY CONNECTED TO SR INDONESIA