IN THE JOURNAL | GLOBAL PERSPECTIVES
Piracy, terrorism and maritime security in Southeast Asia
July-September 2014
By: Lt Cmdr Bagus Jatmiko
When we hear about pirates, the first thing that probably comes to mind is a character like Captain Jack Sparrow from the movie "Pirates of the Caribbean." We can conjure up adventurous journeys and daring acts of valor. The reality, however, is far different than the fanciful notions portrayed by the fearless Sparrow and lovely Elizabeth Swann in the hit movie series.
With this in mind, it is of critical importance that those involved in the maritime domain understand the harsh realities of pirates and their nefarious deeds. The act of piracy itself, a crime conducted at sea, is both intriguing and disturbing – and recent trends have only made it more so. There are credible arguments supporting a direct connection between radical international terrorist organizations and maritime terrorism that has created a security threat in many parts of the world. Many plausible factors could entice radical groups to look to the seas as an available means to further their cause. These facts shape an unpleasant reality that is a major problem for those who operate in the maritime arena.
Piracy and oceangoing terrorism might be unfamiliar to many people, especially those not directly involved in the maritime industry. Nevertheless, piracy is persistently evolving and adapting in the modern environment. Furthermore, facts indicate that piracy has been adopted as a new method of terrorism in achieving the goals of various extremist organizations. To better understand this, it is first necessary to understand the nature of piracy and its evolution as a method of terrorism.
To read the complete article, please subscribe.
THIS IS A PREMIUM ARTICLE
You must be logged in as a Strategic Review subscriber to continue reading. If you are not yet a subscriber, please subscribe to activate your online account to get full online access.
LOG IN
BUY A PDF
Buy a premium PDF version of this article

SUBSCRIBE
Subscribe and get premium access to Strategic Review's content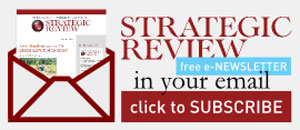 STAY CONNECTED TO SR INDONESIA