IN THE JOURNAL | GLOBAL PERSPECTIVES
Losing the people: Government legitimacy stumbles in Cambodia
July-September 2014
By: Phoak Kung
Cambodia's political landscape has been undergoing a dramatic transformation in recent years, and along with this have come changes in public perceptions of government legitimacy. Last year, huge crowds of protesters poured out onto the streets to demand that the ruling Cambodian People's Party (CPP) step down to make way for what they called genuine democracy. The "change or no change, change" slogan of the opposition Cambodia National Rescue Party (CNRP) has become the talk of Phnom Penh.
Although the CPP might not be under immediate threat given the fact that it still won 68 out of 123 seats in the July 2013 parliamentary election, its stunning decline is forcing the ruling elites to come to terms with the cruel reality that they aren't as invincible or unbeatable as they once believed. While Cambodia is enjoying greater stability and peace, and the economy is growing rapidly, the CPP has fallen victim to its own achievements. The most pressing question is: how did voters suddenly fall out of love with the CPP?
Cambodia's collapse in the 1980s
To read the complete article, please subscribe.
THIS IS A PREMIUM ARTICLE
You must be logged in as a Strategic Review subscriber to continue reading. If you are not yet a subscriber, please subscribe to activate your online account to get full online access.
LOG IN
BUY A PDF
Buy a premium PDF version of this article

SUBSCRIBE
Subscribe and get premium access to Strategic Review's content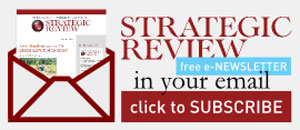 STAY CONNECTED TO SR INDONESIA