IN THE JOURNAL | EDITOR IN CHIEF
'It's the economy, Bapak'
July-September 2017
By: Dr Hassan Wirajuda
It was five years ago that Indonesia's business community – and government – gushed over a now long-repeated report by McKinsey & Company that projected the country would outpace Germany and the United Kingdom and become the world's seventh-largest economy by 2030.
In 2013, however, the economy plateaued and hasn't seen gross domestic product growth above 6 percent since. It's been a steady diet of around 5 percent growth for three years now, causing many to question that bold prediction.
But wait a moment, now. Indonesia is still on track to shoot into the top 10 global economies – perhaps even to the magic number seven or better, the esteemed author of our cover story argues. This would transform its global geopolitical and economic landscape, but, as always, hard reforms must be dealt with and rough waters navigated to get there.
Despite the country's political turmoil in the last several months, namely the recently completed Jakarta gubernatorial election, the economic ship still appears to be on course. This may seem unbelievable to those thrown in a rat-infested prison for two years in a mere matter of weeks. However, our contributor argues that the peaceful conclusion of the election, while vicious and polarizing, demonstrates again that Indonesia's democratic system has grown to be quite robust.
Looking abroad, we have long noted that health care is a vital issue around the world, not just in the United States – and most certainly in developing and underdeveloped nations. One of our contributors argues that digital technology is finally revolutionizing health care, and not just for wealthier nations, but for everyone. Another contributor takes a fascinating look at a major health care issue in the underreported Pacific Islands, where cervical cancer is a threat to women and girls and, as such, everyone in the region.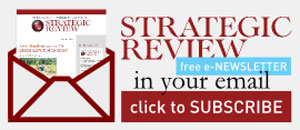 STAY CONNECTED TO SR INDONESIA