IN THE JOURNAL | INDONESIA 360
Is average governance the best Indonesia can hope for?
July-September 2015
By: Lenny Hidayat and Hery Sulistyo
As a result of decentralization in Indonesia, central government policies significantly affect the capacity of regions to develop. Under the country's decentralization laws, 24 important affairs were transferred to the authority of regional governments. These affairs, however, are highly dependent on national policies, particularly with regard to budget fund transfer arrangements from Jakarta to the regions.
A governance index recently published by the Partnership for Governance Reform compares average governance performance between 2008 and 2012. The results show that governance quality in Indonesia has improved slightly in terms of public participation and bureaucratic competence, but not in terms of effectiveness in public service delivery.
In 2014, the Indonesia Governance Index continued to measure quality at the district and city levels across the country. By carefully examining factors that drive and impose barriers on good governance, similar patterns emerged. We found that one of the main obstacles to good governance is the central government's fiscal arrangements with the regions.
To read the complete article, please subscribe.
THIS IS A PREMIUM ARTICLE
You must be logged in as a Strategic Review subscriber to continue reading. If you are not yet a subscriber, please subscribe to activate your online account to get full online access.
LOG IN
BUY A PDF
Buy a premium PDF version of this article

SUBSCRIBE
Subscribe and get premium access to Strategic Review's content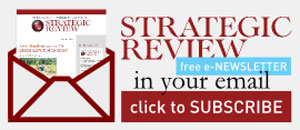 STAY CONNECTED TO SR INDONESIA