IN THE JOURNAL | COVER STORY
'Constructive realism' and the future of US-China relations
April-July 2016
By: Kevin Rudd
President Xi Jinping's trip to the United States in September 2015 was more important than your average Chinese state visit. To be fair, prior to the visit there was a real danger – though no inevitability – that the US-China relationship might begin to spiral out of control. A mounting list of American and Chinese concerns, ranging from the South China Sea to cybersecurity and more, were beginning to build up immense pressure on each respective leadership to adopt a tougher posture. It is a tribute to both leaders that they resisted and instead sought to identify new areas of strategic cooperation, for example on climate change, while recognizing the real and significant disagreements that remain between them.
Strategic asymmetry
Of course, tensions exist in US-China relations. And they are clearly growing. Part of the structural tensions in the relationship boil down purely to mathematics. When China's gross domestic product eventually surpasses that of the United States it will reflect a profound shift in the center of global economic gravity. There is a legitimate debate about the timing of this transition in economic power and a related concern about a range of structural challenges that Chinese policy makers now face. Nonetheless, even with a more modest growth rate during the next decade, the sheer size that the Chinese economy has already achieved means the question we face is not one of "if" the Chinese economy outgrows the American economy, but "when" and by how much.
To read the complete article, please subscribe.
THIS IS A PREMIUM ARTICLE
You must be logged in as a Strategic Review subscriber to continue reading. If you are not yet a subscriber, please subscribe to activate your online account to get full online access.
LOG IN
BUY A PDF
Buy a premium PDF version of this article

SUBSCRIBE
Subscribe and get premium access to Strategic Review's content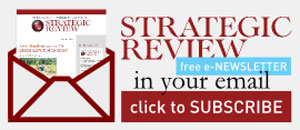 STAY CONNECTED TO SR INDONESIA