IN THE JOURNAL | GLOBAL PERSPECTIVES
China's counterbalance to the American rebalance
October-December 2015
By: Douglas H Paal
The United States is well into what is likely to be 24 months of electoral politics and transition to a new president's administration. Early indications are that relations with China will be a political football for candidates from both the Democratic and Republican parties, something that has been seen before, in 1980, 1992, 2000 and 2012.
Hillary Clinton, the former secretary of state and Democratic front-runner, has already taken the opportunity to warn Taiwan not to become overly dependent on China's markets. Republican candidates assert that the Obama administration has been weak in dealing with Beijing's assertiveness in the South China Sea and with alleged Chinese mercantilism. Distinguishing the 2016 campaign from the previous ones is the competition from Russia and the Middle East for the attention of the many candidates. This time, it is not all about China, although China will not be absent from the debate.
Marking the onset of the extended political season, outgoing President Barack Obama, as of press time, was scheduled to host Xi Jinping, the president of China, during a state visit to Washington. This was likely intended to be the last high-level, purely bilateral exchange for the next two years, and as such would anchor relations through the heavy political seas ahead of the 2016 elections in the United States. Going into the summit, expectations were colored by rising concerns over alleged Chinese cyberintrusions into US official and commercial databases, rising Chinese activism in promoting disputed territorial claims and a worsening economic environment for American business in China.
To read the complete article, please subscribe.
THIS IS A PREMIUM ARTICLE
You must be logged in as a Strategic Review subscriber to continue reading. If you are not yet a subscriber, please subscribe to activate your online account to get full online access.
LOG IN
BUY A PDF
Buy a premium PDF version of this article

SUBSCRIBE
Subscribe and get premium access to Strategic Review's content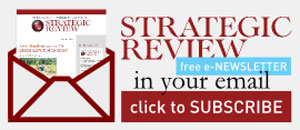 STAY CONNECTED TO SR INDONESIA