IN THE JOURNAL | GLOBAL PERSPECTIVES
What 'Brexit' means for the world
July-September 2016
By: Stratfor
Over the coming weeks and perhaps months, the frenzy of the financial markets will dominate the world's attention following the United Kingdom's decision in a nationwide referendum on June 23 to leave the European Union, popularly known as "Brexit." But what lies beyond the horizon in a post-Brexit world? We highlight the areas of the world that will be most affected by the latest phase of the European Union's fragmentation.
Europe's unraveling
For starters, the United Kingdom will be locked in political turmoil. Prime Minister David Cameron has announced that he will resign by October, leaving his Conservative Party to appoint a successor to formally initiate negotiations on the United Kingdom's exit from the European Union. Naturally, the British economy will take a hit as the pound and stock markets fluctuate, as capital flees and as companies relocate to continental Europe. Renewed talk of secession in Scotland will create yet another source of political uncertainty. If the United Kingdom loses access to the European common market, its main trade partners in the European Union – Ireland, the Netherlands and Belgium – will suffer. Consequently, they will work to expedite a free trade agreement between Brussels and London. The stability of the ruling Tories needs to be monitored closely. Should the party fail to agree on a replacement for Cameron, early elections could be triggered, and by then the mood on Brexit could shift depending on the severity of the economic pain.
To read the complete article, please subscribe.
THIS IS A PREMIUM ARTICLE
You must be logged in as a Strategic Review subscriber to continue reading. If you are not yet a subscriber, please subscribe to activate your online account to get full online access.
LOG IN
BUY A PDF
Buy a premium PDF version of this article

SUBSCRIBE
Subscribe and get premium access to Strategic Review's content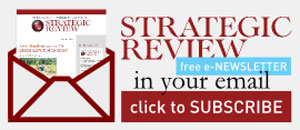 STAY CONNECTED TO SR INDONESIA