IN THE JOURNAL | GLOBAL PERSPECTIVES
Timor-Leste and Australia: A rocky maritime marriage
April-June 2017
By: Hong Thao Nguyen
On Jan. 9, Australia and Timor-Leste (formerly known as East Timor) entered a new chapter in their maritime disagreement with the release of a trilateral joint statement signed by the two countries and the Conciliation Commission that was constituted pursuant to Annex V of the United Nations Convention on the Law of the Sea (Unclos). In this new chapter, both the parties and the international legal community will have to reconsider a slew of core issues underlying the disagreement. They include those related to joint development, maritime boundary delimitation, the use of separate versus single sea lines, the validity of the agreements underlying the dispute, the status of newly independent states, state succession to international rights and obligations, the broader role of international law and peaceful means for the settlement of disputes.
History
The maritime boundary issue in the Timor Sea dates to even before East Timor gained independence from Portugal. Indonesia, which annexed East Timor in 1975, shortly after Portugal relinquished control, had claimed a continental shelf on the basis of the median line between the opposite coasts of East Timor and Australia. The latter's position was that the maritime boundary should follow the edge of the Timor Trough, 40 nautical miles from the southern shore of Timor and 250 nautical miles from Australia. This position was based on the principle of the natural prolongation of the continental shelf, as endorsed by the International Court of Justice's judgment in the North Sea Continental Shelf cases in 1969.
To read the complete article, please subscribe.
THIS IS A PREMIUM ARTICLE
You must be logged in as a Strategic Review subscriber to continue reading. If you are not yet a subscriber, please subscribe to activate your online account to get full online access.
LOG IN
BUY A PDF
Buy a premium PDF version of this article

SUBSCRIBE
Subscribe and get premium access to Strategic Review's content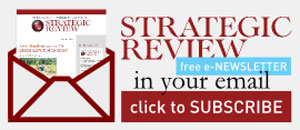 STAY CONNECTED TO SR INDONESIA