IN THE JOURNAL | EDITOR IN CHIEF
Save ourselves, save the world
April-June 2017
By: Dr Hassan Wirajuda
It is by no means a stretch to say that Indonesia helps keep the earth's heart beating. Home to some of its largest remaining rainforests – often referred to as the earth's lungs – we play an extremely crucial role in preserving the balance of nature. No oxygen, no life.
As our unyielding journey through 2017 continues, we will for a moment jump off the news cycle train of Donald J Trump, the Middle East, tensions in East Asia and other issues, to focus on a homegrown issue with global implications. We have an extremely special cover essay, all the way down to an unprecedented artistic cover. A trio of contributors, following up on a short essay in our January-March edition, take an in-depth look at Borneo, where the objectives of sustainable economic and social development are at odds with protecting this mythical island from major environmental losses. The risks are huge, and there is no guarantee of success.
Staying at home, our contributors look at the implications of growing Indonesian nationalism for the country's young democracy. We also do deep cultural dives in this edition, with looks at the power of social media in South Sulawesi, the sea gypsies of eastern Indonesia and unique ceremonies among Muslims in Lombok to observe the Prophet Muhammad's birthday.
Looking abroad, we start with our neighbor Malaysia, where growing ethnic and religious polarization is hampering efforts to reform the country's education system, which is itself polarized. We also look at our neighbors to the east, Timor-Leste and Australia, who are struggling to negotiate an agreement on sharing the riches under the Timor Sea. Last but not least, we check in on the ever-interesting Trump administration in the United States.
We hope this is enough to keep our faithful readers engrossed and occupied for this quarter of our ongoing journey of critical analysis and debate.
Best regards,
Dr Hassan Wirajuda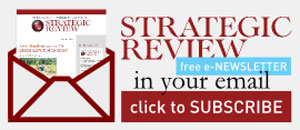 STAY CONNECTED TO SR INDONESIA