IN THE JOURNAL | INDONESIA 360
Low people on the high seas
April-June 2017
By: Duncan Graham
The Bajo are hazy about when they first found Rote island welcoming, which is understandable for people who measure time by tides. However, it's certain these superb seafarers of Southeast Asia's southern archipelagos, who read oceans like others read books, have been visiting the eastern Indonesian island for decades. The last substantial arrival occurred around 1990.
Clues indicating long use of the north coast settlement of Papela in Rote include the slumping driftwood beach shacks now used as shade areas where women fillet fish and men repair nets. Their newer homes are set back from high water, close to a cemetery with strange bollard-like headstones rarely seen in conventional Islamic graveyards. About 100 bodies rest there, so close to the Bajo living right around it that no family could forget their dead and the perils of life at sea.
The burial ground provides further evidence that the Bajo, who are scorned elsewhere as outsiders, are mercifully accepted on Rote. They even have Indonesian identification cards recognizing them as citizens. This gives them access to crucial government services including health care and schooling for their children. "Rote is for all Indonesians, not just the people of Rote," barked the no-nonsense district chief, Lens Haning. "We've given them certificates for land, helped them with housing and built an ablution block. They are Muslim, and most on Rote are Catholics and Protestants. As long as people respect other cultures, there's no problem. They are welcome."
To read the complete article, please subscribe.
THIS IS A PREMIUM ARTICLE
You must be logged in as a Strategic Review subscriber to continue reading. If you are not yet a subscriber, please subscribe to activate your online account to get full online access.
LOG IN
BUY A PDF
Buy a premium PDF version of this article

SUBSCRIBE
Subscribe and get premium access to Strategic Review's content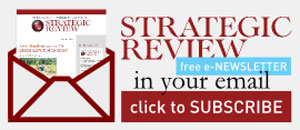 STAY CONNECTED TO SR INDONESIA