IN THE JOURNAL | POINT OF VIEW
Getting community forest reforms right
January-March 2017
By: Erik Meijaard, Sugeng Budiharta and Truly Santika
The eyes of the world are once again on Indonesia. The nation currently faces the challenge of how to better address indigenous land and forest use rights, and to sustainably manage some of the world's most biodiverse and iconic forests. Many overseas observers will closely follow the processes and outcomes in Indonesia and use the lessons learned to inform policy in their own countries.
The eyes might also be on Indonesia because recent policy changes with regard to natural resource management have not always worked out as planned. Indonesia has had some rather unfortunate experiences with new laws that looked good in principle, but had unexpected negative consequences when rapidly implemented. For example, regional autonomy laws enacted after 1998 authorized the country's districts to manage most government services, including those related to logging and mining licenses. The government enabled community cooperatives to be involved in logging and governors and district heads were given the authority to issue licenses for small logging concessions. Thousands of such permits were issued, resulting in a rapid increase in deforestation, and the government had to backtrack and rescind the policy.
How do we prevent similar mishaps with regard to indigenous land and forest use rights? Since the early years of Indonesia's independence, commercial forest use rights were exclusively for companies, and indigenous forest rights were largely ignored. The Indonesian Constitution, adopted in 1945, assigned all forest use rights to the state, with the added note that the government is responsible for managing these forests for the benefit of Indonesian society.
To read the complete article, please subscribe.
THIS IS A PREMIUM ARTICLE
You must be logged in as a Strategic Review subscriber to continue reading. If you are not yet a subscriber, please subscribe to activate your online account to get full online access.
LOG IN
BUY A PDF
Buy a premium PDF version of this article

SUBSCRIBE
Subscribe and get premium access to Strategic Review's content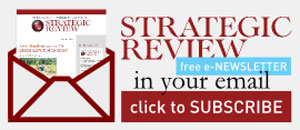 STAY CONNECTED TO SR INDONESIA