IN THE JOURNAL | BOOK REVIEWS
Failed diplomacy
April-June 2014
Negotiating with North Korea: The Six Party Talks and the Nuclear Issue
By Leszek Buszynski
(Routledge, 2013, 208pp)

Reviewed by Yohanes Sulaiman
This is a study on the multilateral effort to denuclearize North Korea - and how it has failed. In "Negotiating with North Korea," Leszek Buszynski examines the competing motivations of each actor involved in the many years of negotiations and how the changing expectations and conflicting goals of the respective nations made them unable to forge a common approach to the issue.
To read the complete article, please subscribe.
THIS IS A PREMIUM ARTICLE
You must be logged in as a Strategic Review subscriber to continue reading. If you are not yet a subscriber, please subscribe to activate your online account to get full online access.
LOG IN
BUY A PDF
Buy a premium PDF version of this article

SUBSCRIBE
Subscribe and get premium access to Strategic Review's content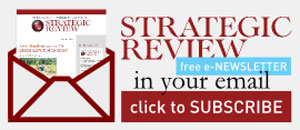 STAY CONNECTED TO SR INDONESIA