IN THE JOURNAL | BOOK REVIEWS
Caught up in the patterns of history
July-September 2016
By: John Delury
Fateful Ties: A History of America's Preoccupation with China
By Gordon H Chang
(Harvard University Press, 2015, 314 pp)

Reviewed by
John Delury
I had my first encounter with "the East" as a high school student growing up in suburban California, where I stumbled on the writings of the Taoist sage Zhuangzi and felt an inexplicable connection to his ancient, absurdist philosophy. A few years later, I found myself spending a summer in Beijing, which was still recovering from the scars of June 1989, and felt myself falling deeper in love with all things Chinese.
Today, some 20 years later, each time I board the short flight from Seoul to Beijing or Shanghai, I fear the magic will be gone, that the toxic air, rampant materialism or political repression will ruin my sense of connection with China. Yet every time I step off the plane, my fears are proven unfounded, and I am drawn deeper still into a lifelong quest to better understand China.
To read the complete article, please subscribe.
THIS IS A PREMIUM ARTICLE
You must be logged in as a Strategic Review subscriber to continue reading. If you are not yet a subscriber, please subscribe to activate your online account to get full online access.
LOG IN
BUY A PDF
Buy a premium PDF version of this article

SUBSCRIBE
Subscribe and get premium access to Strategic Review's content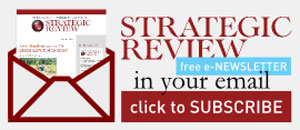 STAY CONNECTED TO SR INDONESIA