WEB EXCLUSIVES | COMMENTARIES
Market acceptability of HIMARS
The multiple launch rocket system is attracting interest around the world
11 December 2017
By: Debalina Ghoshal
The Lockheed Martin developed high mobility rocket system (HIMARS) is a multiple launch rocket system (MLRS), a highly mobile artillery system. It was used during the Operation Enduring Freedom and Operation Iraqi Freedom, and can be transported by C-130 aircraft. Countries such as Singapore, Romania, and Poland have shown an interest in the system, and this article studies the trends in its sales and the reasons why.
HIMARS is capable of being carried by large aircraft and is used to fire army tactical missiles (ATACMs) and guided rockets. According to Lockheed Martin Missiles and Fire Control Camden Operations Director Colin Sterling, the HIMARS launchers are "combat proven" and have been in service since 2005. The weapon system is an "all weather, 24/7 lethal and responsive, precision strike weapon system."
The system was also used in 2010 Operation Moshtarak, the largest offensive against the Taliban. In 2016, US Pacific Commander Admiral Harry Harris requested the US Army deploy HIMARS in the South China Sea in response to growing Chinese assertiveness in the region.
In May 2016, Lockheed's Missile and Fire Control Unit's Director of International Business Development Tom Stanton identified Asia Pacific, Europe and the Middle East as "fertile grounds" for the sale of HIMARS. As of May 2016, a total of 480 HIMARS were sold to domestic and international customers.
In June 2017, it was reported that HIMARS was moved by the US Army from the Jordan border to South Syria for better combat capability. This was the first time the US used HIMARS in Syria. In 2016, there were also reports that the Department of Defense was planning to place HIMARS in Turkey and northern Iraq to prevent ISIS cross-firing from Syria. HIMARS was expected to strengthen the combat capability of the Iraqi Security Forces (ISF).
HIMARS sales trends
HIMARS has found markets in Asia and also European countries. The US State Department in August 2017 cleared a $1.25billion HIMARS sale to Romania after it requested to buy 54 HIMARS. Among Middle Eastern countries, Jordan and the UAE have bought HIMARS, and among Southeast Asian countries, Singapore has made a purchase. For all these countries, the desire to achieve long-range precision strikes has led to them opting for HIMARS.
HIMARS sales to these countries falls under the US foreign military sales (FMS) scheme. This is a foreign policy strategy by which the US aims to strengthen the national security of its friendly countries. Jordan, for instance, is crucial to the US in promoting political stability and economic growth in the Middle East. Another Middle Eastern country, the UAE, awarded Lockheed Martin a deal to provide HIMARS in 2016.
Singapore received its first HIMARS launcher in 2010, and in 2011 it was commissioned by the Singapore Armed Forces (SAF) fleet. Minister for Defense Dr. Ng Eng Hen said HIMARS would enable the SAF to "respond decisively to new challenges and changing circumstances in its operational environment."
In August 2017, HIMARS was acquired by Romania along with related support and communication equipment, sensors, spare and repair parts, test sets, batteries, laptop computers, publications and technical data, facility design and training equipment. The US$1.25billion deal not only strengthens Romania's defense capability, but also strengthens NATO's conventional deterrence.
Poland has shown an interest in developing a HOMAR program similar to HIMARS, in cooperation with the Polish Armament Group and Lockheed Martin. Unlike, Romania, Poland is more interested in joint production of the system than fully acquiring it. This would be lucrative for Lockheed Martin as the cost of production is low in Poland. A low price will attract Poland more towards the weapon system considering that price is the most important factor for it to choose a weapons system. Poland seeks self-sufficiency and promotion of its local defense industry - called Polonisation.
All these countries have a common reason to choose HIMARS - the weapon system's success rate in real time war. All these countries also share a strong alliance with the US - Poland and Romania being NATO countries.
Lockheed Martin has traditionally outsourced the production of HIMARS. However, with the growing demand, it may soon start domestic production. This would not only help it work on the cost, but also enable it to deliver weapon systems within the stipulated time frame without having to depend on outside contractors.
Debalina Ghoshal is an independent consultant specializing in nuclear issues and missile and missile defense issues.
11 December 2017
Australia's increasing importance in the Indo-Pacific is beyond the strategic context
by Tridivesh Singh Maini | 9 February 2012 | Comments (0)
05 December 2017
Some angry academic users are opening access and chasing out profiteers
by Duncan Graham | 9 February 2012 | Comments (0)
05 December 2017
A balancing act is needed when dealing with China, the US, India and Myanmar
by Tridivesh Singh Maini | 9 February 2012 | Comments (0)
MORE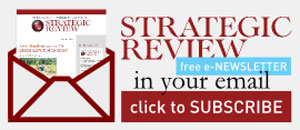 STAY CONNECTED TO SR INDONESIA