IN THE JOURNAL | COVER STORY
Advice for our next leader: Dino Patti Djalal
'We need to push back against anti-foreign sentiment, xenophobia and a siege mentality'
July-September 2014
By: Dr Dino Patti Djalal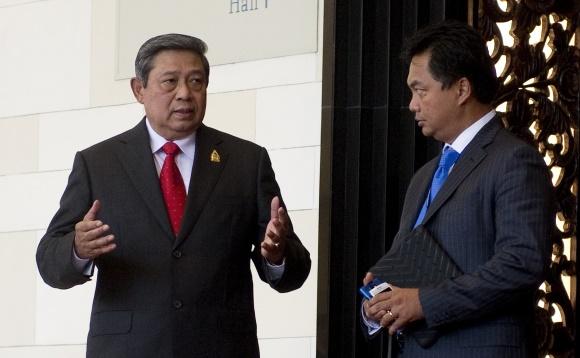 Diplomacy is in Dino Patti Djalal's blood. The son of Hashim Djalal, the famed Indonesian diplomat, he has carved his own successful career in the world of diplomacy and foreign affairs over the past 27 years and counting. Djalal has served in the Ministry of Foreign Affairs and the office of the President, and has been on the frontline of Indonesia's foreign policy-making for the past decade. His stint as ambassador to the US from 2010 to 2013 came during a time of greater closeness between Jakarta and Washington.
Strategic Review spoke with Djalal about the direction of Indonesia's foreign policy under the new president, which he said must continue to revolve around the country's core concept of being active and independent. He also urged the country's next leader to be assertive right out of the gate and develop his own policies, and to never discount the vital importance of the Association of Southeast Asian Nations (ASEAN) to Indonesia. In 2014, he participated in the nominating convention of the Democratic Party, his first foray into party politics.
Indonesia will have a change in president for the first time in 10 years. Do you expect there to be any significant changes to foreign policy under the new president? Indonesia has developed a very good international reputation in the last decade or so. We are now seen as a mature democracy, an emerging economy, a credible regional power, a model of pluralism. These are all positive assets that will benefit the next president. He will surely need to maintain this international confidence in Indonesia, which does not come around too often.
Between the two candidates, I see more consensus on foreign policy, certainly more so than in their domestic platforms. In my experience during the convention of Partai Demokrat, the grassroots were not interested in foreign policy issues, except occasionally they are curious about the impending ASEAN Economic Community in 2015. This means that both candidates have a lot of space to craft their foreign policy design without much public scrutiny. In the present race between Prabowo Subianto and Joko "Jokowi" Widodo, I have not seen any of them use a foreign country as a "whipping boy" in their campaign rhetoric. Indeed, I see conscious efforts by both to present a positive image to the international community.
The sure bet is that the next president will be constitutionally obliged to uphold Indonesia's independent and active foreign policy. There will be no joining military alliances, and there will be no foreign military bases in Indonesia. I expect some changes in the style and tone of diplomacy, in tactical approach and thematic emphasis, and perhaps in the role of the Ministry of Foreign Affairs vis-à-vis the Presidential Office, depending on who wins. Whether or not he will be a "foreign policy President" remains to be seen, but I have seen the vision and mission papers of both candidates and my impression is that whoever wins the election, their diplomacy generally will be one of continuity rather than change.
In any case, it is important for the international community to respect and honor the outcome, because it represents the wishes of the Indonesian people.
What do you think are the main challenges and opportunities for Indonesian foreign policy during the coming years? In my view, first and foremost is the challenge of how to make our international engagement beneficial to the needs of our people. There is an explosion of wealth and opportunities around the world, and our foreign policy machinery needs to make more deals and capture more trade, capital, education, technology and tourists for our people. I still do not understand why this amazing archipelago cannot yet attract 10 million foreign tourists while some of our neighbors have exceeded 20 million tourists. Indonesian restaurants are still so few internationally, compared to Chinese, Mexican, Japanese, Thai or even Malaysian restaurants. The number of Indonesian students studying abroad is also much smaller compared to Chinese, Indian and South Korean students. And I would especially like to see Indonesia become a major trading nation – for some reason, our trade with most of our partners is still well below its potential. So I think the key challenge is: how can Indonesia become more opportunity driven on the global stage?
Internally, we have to persuade our people, who are accustomed to believing that the world is out to exploit us, to think the opposite: that Indonesia can now exploit the world. We need to push back against anti-foreign sentiment, xenophobia and a siege mentality, which have led to so many lost opportunities. We need to convince our people that if we show some confidence, then we can compete and actually win. I have visited some 40 cities across Indonesia in recent months, and I found that a good portion of our people in the provinces feel they do not understand the world and feel disconnected from what us diplomats call the "global village." The good news is that they are generally open minded. I have met many governors, district chiefs and mayors, and they are usually keen to connect with the outside world, but they do not know how.
Another challenge is to fit Indonesia into the evolving region. The Indo-Pacific is undergoing seismic changes. The architecture is getting better but all the moving parts are still not coherent: ASEAN, APEC, ARF, EAS, SCO and others. Major-power relations are very dynamic now, and there is a concern about a "cold fever" among them – I still do not want to call it a "new Cold War." US-China relations are still engaged in an unstable mix of strategic rivalry and cooperation. Historic disputes that had been stable for years are suddenly hot again, including in the South China Sea. Emerging powers want a proper place at the table. Military modernization is growing in a region where strategic trust is relatively low. And we have yet to see how the conflict in Syria will affect us in the future, in the same way the conflict in Afghanistan produced transnational war veterans who caused security challenges back in Indonesia.
So you can see how the next president must navigate Indonesia through a very challenging and uncertain landscape. He needs to have a global view and strategic mindset; he should use our diplomatic assets intelligently; he ought to smartly engage the major powers; and he must keep Indonesia relevant in the order of things to come.
What foreign policy advice would you give the new president? For sure, he must get ready for some diplomatic action the moment he takes office, because within a few weeks there will be the APEC Leaders Summit, the G-20, the East Asian Summit and the ASEAN Summit. He will face warm embraces but many leaders will want to measure him, and he must establish his diplomatic credibility early on. When he takes part in these summits as the new kid on the block, so to speak, he must strike the right balance between listening and steady performance.
I would advise the next president to maintain the policy concepts of "a million friends and zero enemies," the "all directions foreign policy" and "dynamic equilibrium," all of which I believe will remain relevant to Indonesia. But of course he will need to furnish his own themes. As someone who has been involved in the diaspora movement, I hope the next president will rigorously engage the Indonesian diaspora worldwide, and respect them as our partners and members of Indonesia's great heritage. I was told that the Indonesia Diaspora Network was due to meet with both candidates.
The next president would also be well advised to develop a geostrategic view, because Indonesia's geopolitical considerations, after years in hibernation, are again becoming important factors in our foreign policy.
The president must also take great care to maintain our trajectory as a nation, which is really not an easy thing to do. Look around, and you will find that countries that performed well not long ago are now having difficulties. You see this happening in India, Brazil, Argentina, Thailand, Europe and other places. On the other hand, countries that previously were behind Indonesia are doing exceptionally well. Look at the Philippines and Vietnam – they may well surpass us in some areas if we do not maintain our competitiveness.
The next president should also know the limits of our power. Indonesia is a growing power with great potential, but there are limits to what we can do. Our foreign policy budget is modest and so is our military strength. The president should avoid being overambitious, and he must prioritize his policies as early as possible in ways that provide clarity to the foreign ministry and our diplomats abroad. When I served as President Yudhoyono's special staff on foreign policy, we wanted to be active on many fronts, but we also quickly discovered there are limits to what Indonesia can do. For example, the Palestinian-Israeli conflict and tensions between North Korea and South Korea. We ended up pursuing a pragmatic, calibrated policy that was commensurate with our means. With the Arab-Israeli conflict, for example, we focused on capacity-building programs for officials with the Palestinian Authority and also on greater diplomatic recognition for the Palestinians in the United Nations system.
Finally, I would advise him on the importance of taking a stand. This can be tricky and requires courage, because Indonesians by nature like to please people and are averse to offending others. Being true to Indonesia's independent and active policy should not mean a policy of pleasing everybody. It does not mean a policy of equidistance. There have been times – many times – when we have to take a stand and risk displeasing others. In my 27 years as a diplomat, I have observed that Indonesia's international credibility usually rests on our ability to make clear judgments on difficult issues, and that we do not willingly succumb to pressure, be it from good friends or great powers. This is the source of our respect, and why Indonesia has become a moral force in international affairs.
The South China Sea is a pressing foreign policy issue that directly affects Indonesia. What can Indonesia do differently to push for negotiations on a code of conduct with China? Do you think a code of conduct would have the desired affects in easing tensions? Yes because so far, the ASEAN-China working group is the only game in town regarding the South China Sea disputes. None of the claimants are ready to negotiate their territorial claims yet, so the next best thing is to negotiate how they should behave. Indonesia is trying to do its part constructively because we are not a claimant, and we can be an honest broker in this effort. The key is speed and political will. We must not let discussions on the code of conduct drag on for too long – certainly not for another 10 years, as they did for the declaration of conduct. And once it is agreed, ASEAN and China must not treat it as just a piece of paper, but as an actual practical guideline that can change the situation for the better and make disputes more predictable and stable on the ground.
Perhaps then they can move on to the next stage of managing the disputes, which would be some kind of joint development effort in the South China Sea. This will prove to be a much more difficult process than devising a code of conduct, but it is possible. After all, the claimants have, rhetorically, agreed to it.
Do you think Indonesian missions abroad are getting enough tools and budgetary support from the national government? Well, we can always use more. Many of our diplomats return home without much savings. I think our foreign policy budget has not kept up with our increasing burden of work. We are now a G-20 country, a regional leader, an emerging power with a high degree of diplomatic activism, and that means more responsibility and a bigger role for us. In Indonesia, we have a saying, "Ada rupa, ada harga," – there is a cost to do good things.
When I served as ambassador in Washington, many of the embassy's key programs – the American batik design competition, the Guinness angklung world record, the World Diaspora Congress, the magnificent Saraswati statue in front of the embassy and so on – all these things were done independently by rallying corporate support, because there was no official budget for this. I was lucky because in the US, we had the US-ASEAN Business Council, the United States-Indonesia Society and other friends that are always enthusiastic to work with us on common projects. But many Indonesian ambassadors in other postings do not have this luxury and tend to rely solely on their allocated budget.
One problem that I found really troublesome at my embassy was the frequent delays in receiving earmarked funds, and this impacts performance in the field. This is a common issue within our bureaucracy. The Ministry of Finance really needs to fix this annoying problem. On the other hand, our ambassadors and diplomats must also do their part. There are quite a few diplomatic missions that are slow in disbursing their budgets. This is important because budgets can also affect morale.
But it must be said that raising the budget alone will not solve our problems. We need to ensure that our diplomats are fine-tuned, and that they have the right mental software and skills to do their job well. I am encouraged to see so many exceptional young diplomats in the foreign ministry, and we owe it to them to develop a strong system of meritocracy where every diplomat has an equal chance to advance; a system that can open doors for the best and brightest to lead. We must cultivate 21st century Indonesian diplomats who are open-minded, internationalist, intellectually creative, superb at lobbying, have good networking skills, are competent in foreign languages, can compete in any diplomatic settings and above all are patriotic.
Some media reports have suggested that ASEAN is going to change because the next Indonesian president will give less priority to the grouping. Do you think this is true? Neither of the candidates should forget that the year of the ASEAN Economic Community will arrive just a few months after their inauguration, and a good number of Indonesians still do not fully comprehend what it is all about. A massive public campaign about the ASEAN Community is absolutely necessary so Indonesians know what it is and what it is not. When I did my tour across university campuses in Indonesia, I usually asked the audience to raise their hands if they knew anything about the ASEAN Community, and the response was always motionless. The most urgent task for the next president is making sure that he goes through the checklist of policy issues to ensure that our people are ready for the ASEAN Community. Some of the items in the action plan for it have been implemented but others are proceeding slowly, or are even stagnant. The elections this year have somehow distracted us from focusing on them.
If the next president opts to be less involved with ASEAN, it will be at our own peril. We are now in a position where every ASEAN member believes Indonesia is best placed to lead. They have said so publicly in so many forums that it has become conventional wisdom.
We should take this not as a point of flattery, but as the basis of a strategic imperative to keep ASEAN as the cornerstone of Indonesia's foreign policy and worldview. Southeast Asia is now in great demand in the global chess game. Southeast Asia is key to the US pivot, or rebalance policy; in India's "Look East" policy; in China's regional design; in Japan's evolving security posture; in South Korea and Australia's foreign policy; and so on. And Indonesia is at the center of Southeast Asia to the point that when the world thinks of Southeast Asia it sees Indonesia at the heart of the region. No Indonesian leader can afford to dismiss ASEAN. I think both Jokowi and Prabowo will be sensible enough to realize this.
Dino Patti Djalal served as a special assistant and spokesman for President Susilo Bambang Yudhoyono (2004-2010) and as Indonesia's ambassador to the United States (2010-2013). He is also the founder of Modernisator, a movement of progressive and reformist young leaders. In 2010, he received the Bintang Jasa Utama medal, one of Indonesia's highest awards for distinguished service.