IN THE JOURNAL | INDONESIA 360
The 'big lie' of food self-sufficiency
January-March 2017
By: Shinta Eka Puspasari
Indonesia's continuous drive for food self-sufficiency is, according to some agricultural experts, a fool's dream. A succession of presidents have insisted that the country push ahead to develop sustainability in rice, corn, sugar, soybeans and beef. More often than not, such schemes have not produced real improvements in national food security. At the same time, the position of small farmers is being steadily eroded while major corporations play an increasingly dominant role, and quotas on imports sustain often violent smuggling rackets.
A thorough change in the agriculture system is needed to ensure sustainable food supply and public welfare, particularly for the country's poor.
Delusional drive
To read the complete article, please subscribe.
THIS IS A PREMIUM ARTICLE
You must be logged in as a Strategic Review subscriber to continue reading. If you are not yet a subscriber, please subscribe to activate your online account to get full online access.
LOG IN
BUY A PDF
Buy a premium PDF version of this article

SUBSCRIBE
Subscribe and get premium access to Strategic Review's content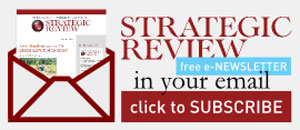 STAY CONNECTED TO SR INDONESIA