IN THE JOURNAL | INDONESIA 360
Reforming terrorists: Indonesia's deradicalization program
July-September 2017
By: Todd Elliot
The involvement of a former terrorism convict in a botched attack in Bandung, West Java Province, sparked new debate about Indonesia's deradicalization program. Yayat Cahdiyat, 41, detonated a pressure cooker bomb and engaged in a shootout with police near a local government office on Feb. 27. He later died of gunshot wounds. The attack marked the third terrorism-related incident in Indonesia perpetrated by a convicted militant since early 2016, raising questions about the effectiveness of the government's deradicalization program.
According to Indonesian police data, out of 1,200 convicts linked to various terrorist attacks across the country since the 2002 Bali bombings, 300 are expected to be released from prison in the coming years. This highlights the need for the authorities to attempt to reform them so they do not return to terrorism and to keep a close eye on all terrorist convicts who are released from prison. The reality is, however, much different, with experts and former terrorist convicts painting a picture of a well-intentioned but poorly implemented effort by the Indonesian government to ensure terrorist convicts do not revert to their old ways.
Effective strategy or myth?
To read the complete article, please subscribe.
THIS IS A PREMIUM ARTICLE
You must be logged in as a Strategic Review subscriber to continue reading. If you are not yet a subscriber, please subscribe to activate your online account to get full online access.
LOG IN
BUY A PDF
Buy a premium PDF version of this article

SUBSCRIBE
Subscribe and get premium access to Strategic Review's content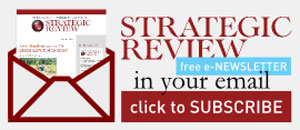 STAY CONNECTED TO SR INDONESIA