EVENTS | January 16, 2013
Pluralism and Progress: Indonesia's Hope
Pluralism and Progress: Indonesia's Hope
Panelists: Nusron Wahid, Jalaludin Rakhmat, Father Benny Susetyo, Yudi Latief - Moderated by Ima Abdulrahim with opening remarks by Gita Wirjawan.
Location: Four Seasons Hotel, Jakarta
A frank discussion on religious intolerance in Indonesia with four of the country's leading thinkers on religious issues.
Additional stories:
Keynote remarks by Gita Wirjawan, Minister of Trade

Panel Presentation:
Father Benny Susetyo:
(Father Benny Susetyo is a prominent Catholic priest and the co-founder of the Setara Institute for Democracy and Peace)
A researcher from the Setara Institute has indicated that the level of intolerance is on the rise. In 2012 there were 371 acts of violence, closures and coercion of churches, whereas in 2010, there were 216.
There are a lot of factors, the first being politics. We don't have firmness in our leaders and firmness in law enforcement to act against violent perpetrators. It is as if acts of violence on behalf of religion are pardoned.
There is the impression of 'omission' because it is taboo to touch religion and there is a lack of courage in enforcing the law when it comes to religious issues.
The second factor is the exclusivity of religious education within the Indonesian context. From early on, children are trained to hate people of different faiths.
Third, there is limited state authority; the state does not have the courage to take action against perpetrators. There are also economic issues, between migrants and local people and over industrialization.
Democracy is hijacked by the interests of those who prioritize the ideology of violence and there were never serious measures taken against violence.
Inter-religious relations are actually fluid, but the state attempts to control it, such as the constitutional provision for religious harmony (Pancasila). [Instead] they try to control everything, even a person's death. The state creates disharmony.
We do not have sufficient character, and thus the nation loses its orientation. So we hope that 2014 will give birth to a leader who has the appropriate qualities of a statesman, someone who can embrace pluralism, a leader with firmness.
Now there is an awareness that discrimination exists. This is a positive thing to build on for Indonesia's future. Secondly, Indonesian youths are getting bored with the politics of identity and religion. Pluralism is a collective consciousness.
When Pancasila becomes a shared ideology and a pillar of nationhood, Indonesia will eventually become a respected country. Thus far, Pancasila has never been implemented; it was only used as a tool for indoctrination.
In the future, we hope to have more rational religious education. We need the kind of religious education that teaches people to think, freeing them from the process of indoctrination and restoring religious education in accordance to the context of Indonesian nationhood. With that, I think Indonesia does have hope, as long as we have a true and righteous leader.
Jalaluddin Rakhmat:
(Jalaluddin Rakhmat is a well-known Shiite Islamic scholar and lecturer at Paramadina University and at Universitas Padjadjaran in Bandung.)
I can boast that I think [my school] is the only school that is absolutely pluralistic in the whole Milky Way galaxy. But at the same time, our school has become the target of religious discrimination. It has also come under attack from some people.
West Java is the province that has had the most cases of religious violence. A few months ago, there was a meeting attended by scholars, governor Ahmad Herawan, and also the Mayor [of Bogor]. The objective of the meeting was to criminalize the Shia group, at least in West Java, because during this time attacks on Shia were limited to discourses and seminars. They had to realize it through action. One was aimed at my highly pluralistic school. In West Java there are many cases of violence against Ahmadis and churches, but nothing against Shia.
One member of our organization had his house attacked, one of them even ended up being killed. One of my ustadz [teacher] had his house burned, his madrassa destroyed, his men arrested and he was eventually persecuted in court in Sampang [East Java]. The mistake he made was having a different belief than others in his area. Now there is a new district head [bupati], who is apparently from the PKB [National Awakening Party]. My wife interviewed him, and he proved to be a very hard person. He did not want the Shia to be there. There aren't any violent attacks against Shia in Bandung, but in Sampang they criminalized the ustadz and his followers.
Why the difference between the two? I don't know, but in terms of religious intolerance, we need to take preventive actions. What can the government do to prevent the stages of intolerance? According to Monsignor Charles Pope, there are 5 stages prior to the persecution of religious minorities. The first is stereotyping: distributing literature, holding seminars against minority groups... Especially for Shia, stereotyping occurs massively in lectures, discourses and in social media. One of the dangers of social media is the sharpening of violence, because people may falsely judge a particular group without facing any legal consequences. The law has never been able to touch it. This is defamation, slander against me. The legislature also does not care for the laws of social media, they are more concerned about the affairs of trade and so on.
In a meeting at the Human Rights Commission, I spoke with Majelis Ulama [Indonesian Ulema Council] and they just insulted me from start to finish, even though we initially wanted to discuss how to resolve the situation in Sampang. So this seems to be the main ideology, this kind of stereotyping, whether through social media or other public spheres. Perhaps the first thing we need to do is to figure out a way to cut this from its earliest stage.
The second stage after stereotyping is vilifying, describing [the minority] as being evil. Then comes the third, marginalizing and revoking their rights. Then criminalizing, thinking of them as villains or criminals. And finally, yes, persecuting. That's what happened to the Shia community.
So a few suggestions: first, there must be a joint effort - and the government plays a very important role here - to develop a discourse that prevents this from the very first stage, which is stereotyping. Secondly, I think the laws that govern religious life are too detailed; it may have to be canceled, including the part that selects appropriate books to be spread among communities. We must provide a relevant public sphere for everyone to have total freedom.
Nusron Wahid:
(Nusron Wahid is a Golkar Party politician and the chairman of Ansor, the youth wing of Nahdlatul Ulama)
I would add that the political dimension is very thick now, due to this intolerance… I would have to involve Father Benny in this case.
Why would the GKI Yasmin church permit be complicated in a 'Pancasila' state? I am ashamed to have witnessed this. Honestly he said it could not be granted because his campaign team refused. This proves that politics is indeed an important role in the cause of intolerance.
The second political influence again, in 2006-2007, when my uncle was a minister of religion, he made a joint decree (SKB) between the religion minister and the minister of home affairs regarding the place of worship. I rejected and garnered 186 lawmakers' signatures to go against this, along with Konstata Ponggawa of the Prosperous Peace Party (PDS).
I was called by Mr. Jusuf Kalla, chairman of Golkar, and I was asked to revoke the vote but I did not want to. If I did, I might as well resign from Golkar. In my opinion, this is part of the government incentive to perform acts of intolerance. There are two things: one is political, and one involves public policy, both are in addition to behaviors that Pak Jalaluddin mentioned.
Another one is the paradox of policy. When a Christian or Shia or Ahmadiya is in the midst of an attack by the majority, the minority is evacuated instead of the attackers being stopped. This indicates that, according to Kang Yudi's book on Pancasila, there is no consistency in the process of decision-making or policy. The court should be given another mandate, namely to test public agency or government decisions that are contrary to Pancasila or not. This is the time to establish a democratic Indonesia. There should be an acceleration of democracy, otherwise it will be more difficult.
In addition to the public dimension, the problem also stems from our religious leaders. According to MUI, pluralism is haram. This is an incentive to violence, an example being the Sampang case. Everything begins from MUI's fatwa, as seen in Cikesik and Kuningan.
Lastly, there needs to be public literacy on the importance of tolerance and it should be raised continuously. The second phase is penetration, tolerance must penetrate the silent majority in an organized manner. The third is there must be an assurance that the organization against intolerance exists in a given location. The last is delivery - all organizations have to deliver.
Yudi Latif:
(Yudi Latif is the head of Pusat Studi Islam dan Kenegaraan Indonesia [the Center for Islamic and Nationalist Studies])
There is no way a country can progress without national integration, which is a precondition for democracy. Whatever we fight for with elections will have political costs. If it is not built by cohesive social force, it's not going to happen. But there is a paradox. While integration is a prerequisite for democracy, the transition phase may include a rise in violence.
Examples are German fascism and others, the Hutus and Tutsis in Africa. There is a democratic transition phase where an explosion of free expression was followed by an explosion of violence and intolerance. The issue is not about increased statistics on intolerance, but the attitudes of the state in tackling intolerance and how it should have anticipated the problem. Every democratic design must see to it that democracy is compatible with national integration.
In the New Order era, we were never serious [about democracy]. In a multicultural democracy there is always a risk with the liberal principles of majority rule. The majority may be leaning more towards a homogeneous society with a more modest party system. Therefore, what is developed by the founding fathers is that everyone should be treated equally, unless it creates further injustice. The principle of difference should always be applied, especially for minority groups.
We experienced a great loss in the early phase of democracy. We have no frame of reconciliation. For instance, the Iranian model of government is a pseudo democracy, but the people there have representation in democratic institutions. Many minority groups have lost their room in the political space because they do not have access to policy making. Second, almost all the symptoms of intolerance are silent and there is a lack of concern from the state apparatus.
There is a lack of public understanding In Indonesia when it comes to morals associated with certain tribes and groups, not public morality. Civic education and moral education taught us that morals are separated from public life. There is no room for public values. There is a growing shortage of the public morality envisaged by the founding fathers to reflect heterogeneity. 'Founding fathers' is actually an inaccurate term because there are women too.
The intersection of diversity is the golden rule, that is, do not do what you do not want other people to do to you. In Soekarno's formulation, the golden rule is the spirit of kinship and mutual assistance. Secondly, we must respect our universal humanity. Third, we are united by bhinneka tunggal ika [unity in diversity]. The next is how to make decisions together within this diversity. Lastly, we must have a shared conception of justice, a pluralistic state can only be in peace if there is a shared idea of justice.
Excerpts from the Q&A discussion:
For Kang Jalal, what do you think is needed to convince society to live side by side with the Shia? Can religious leaders draw up codes of ethics on religion?
Jalaludin:
One of the themes in the religion of Islam is kafah, intact; the idea that the core of Islam is intact, leaving behind the ignorance that is familiar to those who are different from us. And it this is the primary introduction to the following stages of intolerance. As a Shia leader in Indonesia, in my conversations with MUI, they say we will not be able to live peacefully in Indonesia. Mr. Teuku Zulkarnaen said, "We Muslims cannot coexist with the presence of Shia." I cannot give the assurance [that we can live peacefully].
I agree to having all religious leaders sit together and formulate an ethical code of conduct, what they call a core of global ethics, the 'golden rule', to treat others as you wish to be treated by others. That saying is present in every religious scripture. Maybe you can start with global ethics.
Benny:
The problem is not that we are not united, but it is not consistently applied. There are inconsistencies with ethics. I fear that will grow as minorities develop; it is a form of threat. The second is the patterns of violence. Criminalization in the form of preaching does not result in sanctions…
We need religious figures that have a nationalist mindset, something we are currently lacking. Religious figures that lean towards extremism are the ones that are documented in the media. It takes courage to replace religion, as a subject, with the communication of faith and character. I still believe that if there is one righteous person in Indonesia, then the problem can be overcome.
Nusron:
What is needed is not the code of conduct, but a comprehensive understanding by religious leaders. I believe it is stated in any religion that the pious man has pious behavior. Having extremist religious leaders causes shallowness in the code of conduct.
The most important thing is implementation. A political party cannot be expected to uphold nationalism. We used to be able to with PKB and PDI-P, now we can probably only depend on PDI-P.
Yudi:
The rise in intolerance is due to several universal factors. There is a symptom within capitalism itself that generates anxiety and threat. The solution is actually simple. In tackling intolerance, we should simultaneously uphold the principles of republicanism. Even in the New Order era, the source of distortion in Pancasila was the state itself. The state should have upheld the foundations of Pancasila.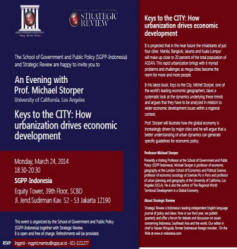 March 24, 2014
How does urbanization drive economic development? Find out as Prof. Michael Storper shares his insights…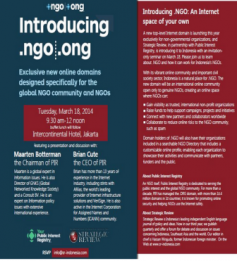 March 18, 2014
The launch later this year of a new top-level global Internet domain just for non-governmental organizations…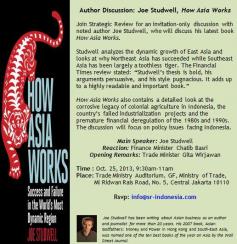 October 25, 2013
Some might call explaining Asia in three steps impossible, given its vastness, complexity and diversity.…
MORE