IN THE JOURNAL | GLOBAL PERSPECTIVES
Asia's maritime conflicts: Where is the United Nations?
July-September 2015
By: First Adm. Amarulla Octavian
Maritime disputes are not a new international issue in the 21st century. We know them very well despite the birth of the United Nations Convention on the Law of the Sea (Unclos) in 1982. Some of the most well-known maritime disputes, no less, are in East Asia, namely the East and South China Seas.
In the East China Sea, there is the Senkaku/Diaoyu Islands dispute between Japan and China, as well as the Takeshima/Dokdo Islands dispute between Japan and South Korea. The South China Sea disputes are probably the most talked-about maritime disputes in the region – and the world – with Brunei, China, Malaysia, the Philippines, Taiwan and Vietnam all claimants. The implications of these disputes include possible armed conflict among the claimant states, a regional arms race and a possible disruption of the global economy if anything should happen in the world's most vital sea lanes.
These maritime disputes are increasingly troublesome for the international community in this era of globalization. East Asia is a maritime region, dynamic in every possible way. It is home to some of the world's largest economies and drives global growth. Most of the world's shipping passes through the region's waters, including right past Indonesia, with the movement of goods and services, energy resources and some of the world's strongest naval forces. This underlines the importance of a stable and peaceful East Asia, and the urgency of a peaceful territorial dispute settlement mechanism among the related parties.
To read the complete article, please subscribe.
THIS IS A PREMIUM ARTICLE
You must be logged in as a Strategic Review subscriber to continue reading. If you are not yet a subscriber, please subscribe to activate your online account to get full online access.
LOG IN
BUY A PDF
Buy a premium PDF version of this article

SUBSCRIBE
Subscribe and get premium access to Strategic Review's content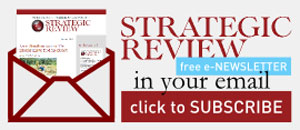 STAY CONNECTED TO SR INDONESIA