WEB EXCLUSIVES | COMMENTARIES
The Increasing Importance of Southeast Asia for India
Strategically and economically, India needs to continue to strengthen its ties with ASEAN nations
03 May 2015
By: Tridivesh Singh Maini
One of the significant transformations in Indian foreign policy in the 1990s was the high priority which New Delhi gave to the relationship with Southeast Asia.
India's first Prime Minister Jawahar Lal Nehru understood the importance of Southeast Asia. Even before India's independence in May 1947, an Asian Relations Conference was held in New Delhi where leaders from many Asian and African countries were present.
Post independence, the key factors which propelled India's ties with Southeast Asia during Nehru's rule were Asian solidarity/pan-Asianism as well as a degree of anti-colonial sentiment. Nehru's personal rapport with Indonesian President Soekarno, which was evident during the Non Aligned Movement (NAM) Conference at Bandung in 1955, is a strong testament to this point. India also played a pivotal role in the Geneva Agreement of 1954 which resolved the conflict in Indo-China.
In the 1960's and 1970's, India did attempt to engage closely with Southeast Asia, and even proposed an economic grouping called the Economic and Social Commission for Asia and Far East (ECAFE). The founding members of the Association of Southeast Asian Nations (ASEAN) - Malaysia, Singapore, Indonesia, the Philippines and Thailand - did not pay much attention to its grouping and did not consider it a feasible organization. India's pro-Russia stance during the Cold War and its support for the Heng Samrin regime in Cambodia did not help its cause in any way.
The economic reforms of 1991, and the major global shifts prompted major change, and India's approach toward Southeast Asia not only sought to build on historical links, but also took into account major economic and strategic interests, and was thus driven by real politik as opposed to mere idealism.
This policy was named "Look East," and former Prime Minister PV Narasimha Rao outlined his vision for Southeast Asia during a speech in Singapore in September 1994.
The current government of Prime Minister Narendra Modi has gone a step further, and stated that India needs to move beyond "Look East" to "Act East."
There were several key factors in this re-think in Indian policy, and the transition of the relationship in the 1990s.
The immense economic opportunities and the strong historical connectivity in Southeast Asia, as well as a desire by to India to not be restricted to South Asia and get bogged down in regional conflicts, were vital.
The fact that India has been able to establish closer economic ties with the ASEAN region is manifest not just in the fact that it is now a Summit Level partner of ASEAN - a step up from being a sectoral partner in 1992 - and bilateral trade has significantly increased to nearly US$80 billion, and is likely to reach US$100 billion by 2015, driven by the Free Trade Agreement (FTA) in goods.
During the recently held Delhi Dialogue, which is an annual exchange between policy makers, academics and journalists of India and ASEAN, Foreign Minister Sushma Swaraj, referring to the increasing trade ties with ASEAN, stated:
"The signing of a FTA in goods in 2009 has given a spurt to bilateral trade. However, we need to make a special effort to achieve our target of enhancing trade to US$100 billion by 2015, and our aspiration to double it to US$200 billion by 2022. We will have to significantly augment the utilization level of the FTA and further liberalize the tariff lines.
In the strategic sphere, too, cooperation has increased. India is developing close military and navy links with Vietnam. During President Modi's visit to Vietnam, a US$100 million line of agreement was signed between the Export Import (EXIM) Bank of India and Vietnam's Ministry of Finance for defense procurement. Over the past two decades, India has also enhanced its naval and military cooperation with Singapore.
One of the important features of the "Look East" policy was engagement with Myanmar in the early 1990's. While India did not engage with the ruling military junta for long, the government realized the strategic importance of Myanmar and built diplomatic relations with the country.
The current government is seeking to enhance connectivity and improve border infrastructure so as to give a fillip to trade. Currently the two land routes open for trade are Moreh-Tamu and Zokawthar (Mizoram) and Rih (Myanmar). Efforts are also under way to complete the India-Myanmar-Thailand highway and the Kaladan Multi-Nodal Project. India is also developing economic zones on the border with Myanmar so as to facilitate closer trade relations.
There is a serious rethink to focus on countries in Southeast Asia, which for so long did not receive the attention they deserved. This includes lesser-developed countries Cambodia, Myanmar, Laos, and Vietnam (CMLV).
India is setting up centers for teaching English as well as information technology, and New Delhi is also assisting these countries with disaster management. In Myanmar, it is assisting in a number of areas which include information technology and agriculture, as well as training Myanmarese officials on trade related and World Trade Organization issues.
Recommendations
Firstly, there is the scope for greater people to people contact between ASEAN and India, and to boost the level of tourism between the two.
Secondly, there is more potential for a number of state governments to reach out to the ASEAN region. Several state governments have already developed links with countries such as Singapore and Malaysia, as many of them are seeking help with infrastructure.
State governments which have historical linkages with Southeast Asia can also play a pro-active role. For instance, Kalinga (now Orissa) and Suvarnadvipa (Indonesia) had trade links. A strong illustration of this point is the fact that even today the "Bali-Yatra" (Journey to Bali) festival is celebrated in Orissa. Memories of the voyages are evoked in this festival. In 2012, the then Ambassador of Indonesia met with Chief Minister of Orissa and sought to rekindle ties.
In conclusion, it is time for both India and ASEAN to look at the relationship as "multi-dimensional" and multi-layered and not restricted to any one dimension.
Tridivesh Singh Maini is a Senior Research Associate with The Jindal School of International Affairs, Sonepat.
04 June 2015
The United States advised its allies not to join the institution, but many signed up anyway
by Mark Fleming-Williams | 9 February 2012 | Comments (0)
04 June 2015
His game theory work changed the way we see human psychology, global trade and strategic forecasting
by Stratfor | 9 February 2012 | Comments (0)
04 May 2015
India-Canada Nuclear deal the first step in closer energy, defense, security and trade cooperation
by Debalina Ghoshal | 9 February 2012 | Comments (0)
MORE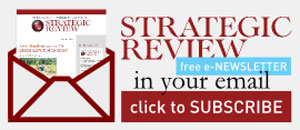 STAY CONNECTED TO SR INDONESIA