IN THE JOURNAL | GLOBAL PERSPECTIVES
The united [`non-Western`] states of the world
January-March 2018
By: Yury Sigov
What remains critical is this: nobody has any clear explanation of where this strange organization will go and for what particular purpose, and what it will mean for China and Brics` other members. The grouping`s advantage is its vision to the future, as opposed to any sort of containment policy, bellicose threats, preserving the existing world order or supporting global hegemony by one country.
It may ultimately come out to the same empty talks about the alleged creation of a "new structure for the formation of an equal and balanced global economy" within the framework of an updated Brics. If so, it likely would be fiction and self-cheating. After all, any unification of the most sovereign and independent countries without the participation of the West (and in particular the United States) is still possible, but would look like a direct challenge. And what would be the purpose of such a challenge – to increase dialogue among Brics or be a part of a large new China "friends list"? If it is only for these goals, a new Brics would be just as influential on the global political and economic stage as the old one.

Yury Sigov is the United States bureau chief for Business People magazine, which is based in Moscow and has offices in six countries.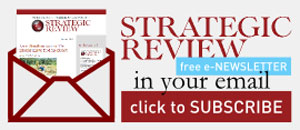 STAY CONNECTED TO SR INDONESIA