IN THE JOURNAL | GLOBAL PERSPECTIVES
Putin's biggest fear
July-September 2017
By: Stratfor
Navalny officially left Yabloko in 2007 and founded The People, which stood for so-called democratic nationalism and espoused anti-immigration, anti-Muslim and pro-ethnic Russian rhetoric. Despite collaborating with other nationalist groups like Great Russia and the Movement Against Illegal Immigration, Navalny's group struggled to get off the ground. But it established a solid foundation and his movement began to grow during the Russia for Russians marches of 2010, before being further propelled by the mass protests of 2011. During that period, Navalny's messages reached a broad cross-section of demographics.
The political cycle of 2010-12 gave Navalny the platform and momentum he needed to become the primary face of the opposition. He has held onto that role by maintaining focus on a universally appealing message: anti-corruption. The topic covers a wide range of issues including election-rigging, elite money funneling/hoarding, a stagnant political system and economic pressure on the people of Russia. It's a message that crosses political, economic and social divides. And though Navalny created the Anticorruption Foundation in 2011, he has been fighting corruption since long before he gained his more recent soapbox.
Over the years, Navalny and his various organizations have gone up against some of the Kremlin's biggest firms and personalities to reveal the systemic corruption across the country. In 2008, he attempted to launch a transparency campaign into the largest Kremlin-owned energy firms: Rosneft, Gazprom, GazpromNeft and Surgutneftgaz. He spent hundreds of thousands of rubles to purchase minority shares in the firms, then fought to gain disclosure of information for those minority shareholders. He then published in bulk information on the energy firms' network of corrupt connections among one another, Kremlin heavyweights and foreign and domestic intermediaries. Furthermore, in 2011, he published reports on corrupt Hungarian-Russian government real estate deals, and in 2012 he exposed influential Deputy Prime Minister Igor Shuvalov's dubious ties to powerful oligarchs.
Such actions gave Navalny a strong reputation as the leader in the fight against government corruption, which fed into his ability to surpass some of the more longstanding opposition leaders during the 2010-12 political cycle. During that period, Navalny coined one of the opposition's most identifiable slogans, "party of crooks and thieves," referring to the Kremlin's United Russia. And after many of the opposition organizers from that cycle stepped back under Kremlin pressure, he continued to charge forward. In 2012, he attempted to create his own political party, People's Alliance, which was regularly challenged by election committees and judicial systems. After even its name was challenged, People's Alliance morphed into its current iteration, Party for Progress, which has also been continually denied legal party registration despite meeting requirements.
Navalny's rise has made him a top target for arrests. The most serious charges came in 2013, the day after he registered his candidacy in the race for the influential position of Moscow mayor. Navalny was found guilty of embezzlement and sentenced to five years in prison. He initially withdrew his candidacy, leaving Russia's largest opposition groups in disarray. At the time, 57 percent of Muscovites and 44 percent of Russians believed the charges were fabricated. With the Kremlin facing the potential for new protests to erupt, Navalny's sentence was suspended, allowing him to reconfirm his candidacy. Even Vyacheslav Volodin, then the deputy prime minister (and the Kremlin's political orchestrator), supported Navalny's bid against the Kremlin-chosen candidate, Sergei Sobyanin, seeing it as an opportunity to legitimize Sobyanin's victory. Ultimately, Navalny garnered nearly one-third of the vote in the election, a strong result that shocked not only most analysts, but also the Kremlin.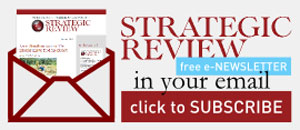 STAY CONNECTED TO SR INDONESIA