IN THE JOURNAL | POINT OF VIEW
Indonesia: Asia's next geopolitical player?
April-June 2017
By: Beginda Pakpahan
Mediator or not, this is nonetheless a geopolitical challenge for Jakarta. Indonesia and Japan have agreed to establish a maritime forum to ensure an open South China Sea and stable Asia-Pacific region. Yet, China's land reclamation activities and deployments of missile and radar systems on disputed atolls and islands have heightened tensions and deepened divisions among both claimant and non-claimant states alike. In April 2016, for example, China, Cambodia, Brunei and Laos agreed that the South China Sea disputes must not impact Asean's relationship with Beijing. This could have an impact on the grouping's unity, in particular after the arbitration court overwhelmingly ruled against China's sovereignty claims via the nine-dash line. (Ironically, the plaintiff in that case, the Philippines, is now cozying up to Beijing under President Rodrigo Duterte.) It could also negatively impact hopes for stability, given that Beijing rejected the court's decision and has never been more assertive and aggressive regarding its territorial claims.
It will be interesting to see how – or whether – US President Donald J Trump's foreign policy in Asia differs from that of the Obama administration, which exercised a geopolitical "pivot" toward Asia. Will Trump conduct a rational, transactional or isolationist US foreign policy in the Asia-Pacific region? He may expand America's military presence in the South China Sea to protect and expand Washington's strategic security and economic interests, including trade and investment in the region. This could maintain the US sphere of influence in Asia, while creating American jobs and economic growth back home.
Consequently, Indonesia should focus on maintaining Asean unity, in addition to pushing for the signing of a code of conduct after so many years of discussions. Such a code aims to preserve maritime security, ensure free and safe passage, preserve sea transportation lines and logistics, and maintain dialogue among claimant states on overlapping sovereignty claims. The main reason Indonesia needs to be a focal point of any solution in the South China Sea is that it will positively contribute to its own vision to be a global maritime fulcrum, as well as support the Asean Community.
There are many things that Jakarta can recommend, such as:
Push Asean claimant and non-claimant states in the South China Sea to swiftly begin talks on a code of conduct, and halt military buildups and the creation of artificial islands.
Establish a special maritime forum to exchange information and encourage confidence-building measures among claimant and non-claimant Asean states. Such a forum can also promote joint research and economic development cooperation among the Asean states.
Encourage all parties to avoid unilateral actions that could escalate tensions and create instability. Indonesia could help increase communication among regional governments and China by pushing the establishment of a special hotline, which would be useful to respond to maritime emergencies in the South China Sea. The hotline was suggested last September during an Asean-China dialogue.
Begin collective or joint maritime security patrols involving claimant and non-claimant states.
The new geoeconomic situation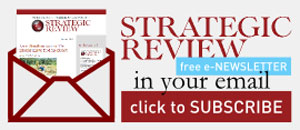 STAY CONNECTED TO SR INDONESIA