IN THE JOURNAL | INDONESIA 360
Garuda rising
How peacekeeping is helping the Indonesian military modernize
April-July 2016
By: Callum Cashel
Indonesia has a rich history of involvement in peacekeeping operations since its statehood in 1949, with only a brief intermission during the 1997-98 Asian economic crisis. From missions as varied as the Sinai Peninsula and Haiti, the TNI has fielded 32 contingents in more than 20 countries, operating as both a leader and joint participant. These missions are an important and tangible outcome of Indonesia's free and active foreign policy, and its constitutional obligations. Indonesia has over the years earned a reputation as both a reliable contributor and a force that naturally wins the hearts and minds of the local population. Indonesia currently has 2,682 TNI peacekeepers deployed internationally, the bulk of whom are in Lebanon and Mali, where an Army company deployed in September 2015.
The most important recent deployment is the ongoing commitment to Lebanon, which began in 2006 with Garuda XXII-A as part of Unifil. The initial deployment consisted of an 850-member mechanized infantry battalion from the Komando Strategis Cadangan Angkatan Darat (Army Strategic Reserve Command, or Kostrad) and the Korps Marinir (Marine Corps, or Kormar), with newly acquired armored personnel carriers. The Lebanon deployment is of significance as it has only been since Indonesia's democratic reform period began in the late 1990s that the military has been able to field and sustain a battalion-sized contingent overseas.
The Indonesian government has recognized the importance of peacekeeping as a core competency for TNI personnel and has created the Indonesian National Defense Forces Peacekeeping Center in Sentul, West Java Province, which trains large contingents of soldiers, airmen and marines for deployment in prospective peacekeeping missions. This is part of a push by the TNI to focus on military operations other than war, and it is the largest center of its kind in Southeast Asia, a region with a strong pedigree of peacekeeping contributions. This was a broader objective introduced by Yudhoyono, to train and deploy 10,000 peacekeepers.
This is a bold objective but it is not an unobtainable one. This essay works under the assumption that Indonesia is positioning the TNI to substantially increase the number of personnel who undergo peacekeeping training and the numbers deployed on operations. The actual target figure is somewhat elusive: if Indonesia managed to deploy 10,000 troops on peacekeeping operations it would be the top contributing country in the world. A more conservative figure offered is 4,000, which if adopted would place Indonesia sixth on the list. This is still substantial, as Indonesia has adopted peacekeeping as a competency across its entire Armed Forces, rather than a dedicated unit. As such, the peacekeeping center in West Java would have to train 4,000 personnel for deployment every year. This spreads the experience and skills across a larger contingent of soldiers. It is in light of this posturing that this essay considers the utility of peacekeeping operations to Indonesia's military modernization program.
Modernization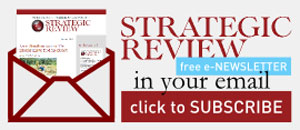 STAY CONNECTED TO SR INDONESIA