IN THE JOURNAL | INDONESIA 360
Garuda rising
How peacekeeping is helping the Indonesian military modernize
April-July 2016
By: Callum Cashel
Peacekeeping operations contribute to the development of doctrine by demonstrating that expeditionary warfare is possible, and the TNI can perform it well, seen with Konga XXIII. As such, TNI doctrine must change to better incorporate active conventional deterrence through force projection. Doctrinal emphasis on the employment of the territorial command should be reduced in favor of enhancing the responsibility of conventional deterrence. The effect of this would expand the responsibility for the operational command of Kostrad and Kormar in the provision of security. The Kogabwilhan represent a hybrid of the two commands. They are positioned at key possible flashpoints across the state, designed to act independently and organized for rapid response. Importantly, the Kogabwilhan serve as a conduit for joint operations, increasing the involvement of the Indonesian Army and Air Force, which activates both the sea and airlift capabilities mentioned earlier and deterrence platforms such as the forthcoming fighter squadrons and submarines. TNI doctrine must accommodate these developments and reduce reliance on the territorial command, otherwise Indonesia's military modernization will continue to be described as ad hoc and lacking long-term vision.
Conclusion
In the wake of the stability and development that characterized the Yudhoyono administration, Indonesia has entered into a new era with President Joko and the accompanying uncertainty as to the future of the TNI. This essay has attempted to contribute to a better understanding of the role peacekeeping operations play within Indonesia's Armed Forces, and that the benefits of participating in peacekeeping operations are more important than a financial subsidy from the UN, individual soldiers' promotions and visually demonstrating Indonesia's presence on the international stage. The benefits are tangible and valuable to the ongoing modernization of the TNI, and are underappreciated within the military.
Peacekeeping operations are of direct relevance to the goal of the TNI in introducing an active conventional deterrence capability through force projection, given the expeditionary nature of Konga and the source of personnel being from Kostrad and Kormar. Structural incorporation of an expanded peacekeeping operations agenda is feasible, but it requires significant reform of Indonesian military doctrine, which has been notoriously slow to adapt. As doctrine affects all three levels of force employment – tactical, operational and strategic – doctrinal reform would trigger not only the effective incorporation of an expanded peacekeeping program, but it would allow other significant related modernization initiatives to be effectively employed, such as the Kogabwilhan.
It is not suggested that peacekeeping operations play a central role in the modernization of the TNI, but the role it does play is underappreciated and therefore useful to examine. The benefits to modernization outlined in this essay have occurred largely incidentally, without direction from the government or discussion among academia. By drawing attention to these benefits, they can be reinforced and improved upon. In the long run, Indonesia will have a capable and professional military able to carry out its foreign policy goals when necessary. Indonesia's peacekeeping operations will play a supporting role in realizing this outcome.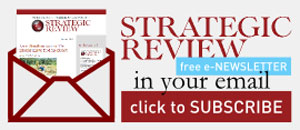 STAY CONNECTED TO SR INDONESIA