IN THE JOURNAL | BOOK REVIEWS
A Monumental Quest for America's Heroes
October-December 2017
By: John Delury
In his quest for heroes from the days of Thomas Jefferson to Barack Obama, Green uses history to make the case that American strategy in the Asia-Pacific should be predicated on preventing the emergence of a hegemon. Ignoring the irony of America's own hegemony since 1945, this noble goal is to be achieved by means of a strong navy, security alliances, trade liberalization and the promotion of democracy. Did Green derive these principles from his study of the past, or is he using history to illustrate the validity of a conviction derived from his observation of the present? The danger in doing the latter is that, informative as it may be, we learn nothing new from history. We are not forced to rethink our assumptions and question our certitudes in confronting the complexity, disorderliness and strangeness of the past.
Despite these limitations, which are inherent in monumental history itself, this book is a fascinating reflection on American power, and should be read by any serious student of grand strategy in the Asia-Pacific.
John Delury is an associate professor at Yonsei University Graduate School of International Studies in Seoul and book review co-editor of Global Asia, a journal of the East Asia Foundation, with which Strategic Review has a content-sharing agreement.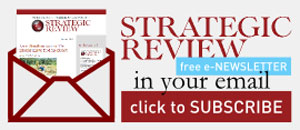 STAY CONNECTED TO SR INDONESIA