IN THE JOURNAL | BOOK REVIEWS
Winning and wielding national power in Asia
January-March 2016
By: Deep Pal
Strategic Asia 2015-16: Foundations of National Power in the Asia-Pacific
Edited by Ashley J Tellis, with Alison Szalwinski and Michael Wills
(The National Bereau of Asian Research, 2015, 272 pp)

Reviewed by
Deep Pal (@DeepPal_)
In its 15th iteration, "Strategic Asia," the flagship publication of the National Bureau of Asian Research (NBR), revisits a topic that it took on in its first year: national power of Asian states and the role it plays in their worldviews. Now, a decade and a half later, the present volume expands the ambit of the issue and finds that the question of national power, and what constitutes it, remains just as relevant. The authors take up the United States and six leading Asian powers – China, Japan, South Korea, Russia, India and Indonesia – to analyze how they convert their natural resources into national resources, and the constraints and opportunities they face in the process.
For authors looking at national power in the Asia-Pacific region, the geopolitical climate in 2015 may seem less uncertain than the early 2000s. China is clearer about its message to the region – no longer a message of impending rise, but of its arrival. The underlying significance of the apparently platitudinous "win-win cooperation" is abundantly clear now: either join China as it moves to reclaim what it believes is its rightful position or be left behind. Those that the missive is directed at do not seem to be laboring under the illusion of China's good neighbor policy anymore. Moreover, a greater number of countries in the Asia-Pacific have abandoned fence-sitting on the United States' presence in the region, allowing Washington to strengthen partnerships and cooperation mechanisms under the Obama administration's Asia "rebalancing" policy.
For consistency and comparability, the countries highlighted are examined on a common matrix developed by Ashley J Tellis, senior adviser to NBR, which is centered on "population, state structures, state-society relations, constitutional arrangements, culture and worldview." These are the elements that make up the country as a political unit occupying a certain geography. The chapters investigate how states fare on each of these dimensions, looking for aspects where they might falter and determining the external impact they might have. Notably, this matrix assumes that natural resources on their own have no value and states have to actively turn natural resources into assets for the accumulation of tangible and actionable power.
This edition of "Strategic Asia" analyzes national power as part of a larger question being taken up as a multiyear study. As explained in the overview chapter, "Strategic Asia" will continue to explore this topic with interrelated questions in two subsequent volumes. Next year, the project will take up the question of strategic culture and the way it influences the use of resources. The third installment will examine the role that national resources and strategic culture play in advancing the objectives of states, especially in the present milieu of geopolitical rivalry in the Asia-Pacific.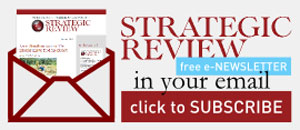 STAY CONNECTED TO SR INDONESIA