IN THE JOURNAL | INDONESIA 360
Why Indonesia must embrace liberal economic reforms
October-December 2017
By: Steve H Hanke
Maximizing productivity is the gateway for economic growth. An increase in productivity allows businesses to produce greater output for the same level of input, earn higher revenues and ultimately generate higher gross domestic product, resulting in better standards of living. However, productivity in many countries continues to remain stagnant or, worse, move in the opposite direction.
The World Bank has been rigorously measuring the ease of doing business (DB) of many countries for more than 15 years, producing a treasure trove of empirical evidence. The basic intuition behind the DB project is that by breaking down and quantifying the various aspects of business regulation within a country's economy, the country is able to isolate the individual factors that are inhibiting business growth. The goal for each country is to reach the frontier – the aggregate of the best performance observed in each of the 10 categories – by adjusting their rules and regulations to allow their private sectors to thrive. By providing a healthy regulatory environment, the countries will be able to increase their productivity, and subsequently their standard of living. The World Bank's research has produced an abundance of empirical evidence that examines the different aspects of an economy's regulatory environment. The DB project provides 10 quantitative indicators that capture the important dimensions of the countries' regulatory environments. Every year since 2002 the World Bank has published these DB scores and their breakdowns in a volume titled "Doing Business."
Methodology review of doing business
To read the complete article, please subscribe.
THIS IS A PREMIUM ARTICLE
You must be logged in as a Strategic Review subscriber to continue reading. If you are not yet a subscriber, please subscribe to activate your online account to get full online access.
LOG IN
BUY A PDF
Buy a premium PDF version of this article

SUBSCRIBE
Subscribe and get premium access to Strategic Review's content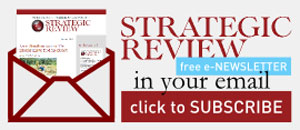 STAY CONNECTED TO SR INDONESIA