IN THE JOURNAL | EXCLUSIVE INTERVIEW
'Islam in a peaceful, gracious, polite way'
October-December 2015
By: KH Said Aqil Siradj
KH Said Aqil Siradj

Interview by
Strategic Review
Established in 1936, Nahdlatul Ulama is the largest Muslim organization in Indonesia – and the world. The organization, commonly known as NU, is globally known for its tradition of promoting and celebrating Islam for what it is: peaceful, spiritual, pluralistic and nonviolent, merging perfectly with the historic and binding principles of the Republic of Indonesia. Islam as represented by NU, and like-minded Indonesian organizations such as Muhammadiyah, is a pillar in maintaining the country's national unity and pluralist tradition, and is a bulwark against radicalism and extremism.
In August, Kayi Haji Said Aqil Siradj was re-elected as chairman of Nahdlatul Ulama. He recently sat down with Strategic Review in Jakarta to discuss Islam Nusantara (historically referred to in English as East Indies Islam), radicalism, the Islamic State in Iraq and Syria (ISIS), and why he thinks Indonesians who reject pluralism should move overseas.
To read the complete article, please subscribe.
THIS IS A PREMIUM ARTICLE
You must be logged in as a Strategic Review subscriber to continue reading. If you are not yet a subscriber, please subscribe to activate your online account to get full online access.
LOG IN
BUY A PDF
Buy a premium PDF version of this article

SUBSCRIBE
Subscribe and get premium access to Strategic Review's content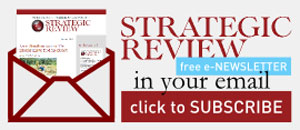 STAY CONNECTED TO SR INDONESIA